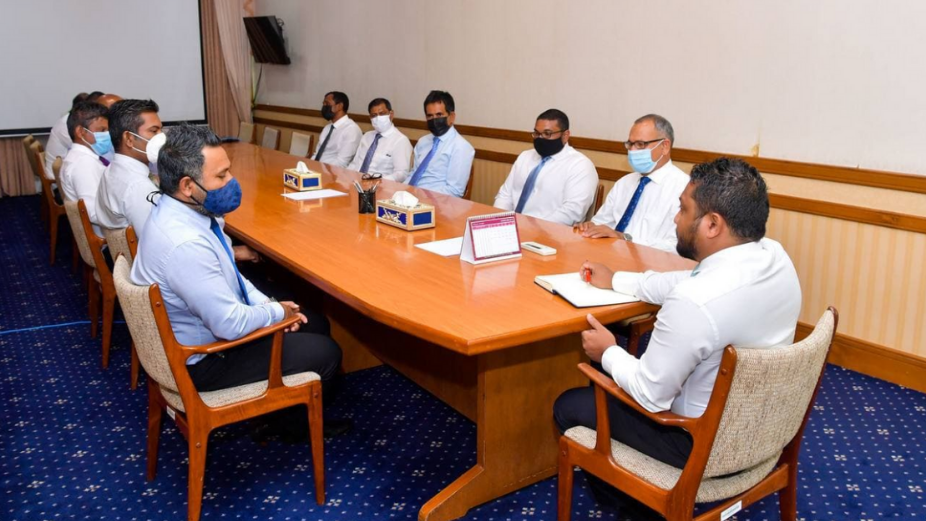 The Chief of Staff of the President's Office, Uz Ali Zahir, has yesterday met with a team consisting of Members of Parliament (MPs) representing the Progressive Party of Maldives (PPM) and People's National Congress (PNC). The meeting was held to discuss and address concerns from the MPs regarding the litigation and trial of former President Abdulla Yameen Abdul Gayoom.
The concerns raised during the meeting was led by the MP for Lhaviyani Atoll Naifaru, Ahmed Shiyam. The team alleged that the President, the Government and especially the Chief of Staff were unduly influencing the outcome of former President Yameen's trial, based on an audio recording of unknown origin circulating in the media today. They further alleged that the voices heard in the audio recording corresponds to three of the five judges making up the Criminal Court's five-member bench, which issued the sentence against former President Yameen back in 2019. They also said that they have knowledge of further unreleased audio of the Chief of Staff unduly influencing the verdict. The team questioned the motive of the Government in not responding to any of the allegations posed by the released audio clips.
The Chief of Staff firmly denied that President Solih, the current administration, nor he, attempted in any way to influence judges or any trial ever since taking office, and further had provided absolute autonomy to the judiciary in general. Answering the assertions against the Government not responding to the allegations posed by the audios, the Chief of Staff stated that the audio's origin is unknown and therefore cannot be determined as credible evidence. Moreover, the Uz Ali Zahir asked to produce the unreleased audio referred to by the team, if they have any, to prove that he had been involved in any way in influencing the trial of former President Yameen.
The Chief of Staff highlighted that while the previous administration may have unduly influenced the judiciary in the past, President Ibrahim Mohamed Solih's administration respects the separation of powers and the sanctity of democratic institutions. He also reiterated that the current administration had, from day one, upheld the pledge to reform the judiciary and provide full autonomy for independent institutions.