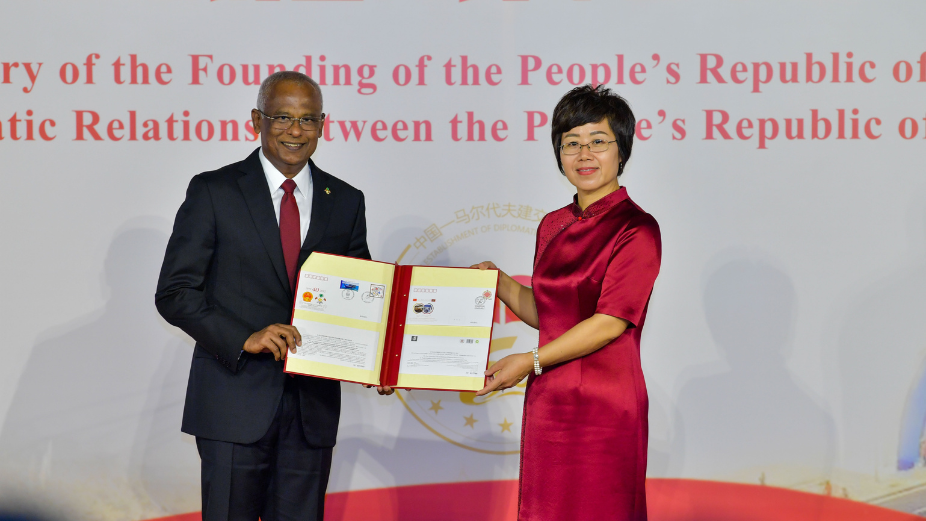 President Ibrahim Mohamed Solih stated on Saturday that China continues to be an important development partner for the Maldives and that the China-Maldives partnership has been key to the Maldives' developmental journey. He made the remarks while speaking at the official reception held in Dharubaaruge to commemorate the 50th anniversary of the establishment of diplomatic relations between the two countries and the 73rd anniversary of the founding of the People's Republic of China.
The President congratulated Chinese President H.E. Xi Jinping, the government, and the people of China on the diplomatic milestone . "This is a partnership Maldives values and cherishes, and it demonstrates the strong bonds of friendship between our two peoples," he said.
"China has walked with us hand in hand along our development journey," President Solih added, stressing the close bilateral relations the two countries have continued to enjoy over the years.
Further reflecting on the friendship between China and the Maldives throughout history, the President said that the ties between the two nations are based on our shared commitment to the One-China Principle, the Maldives' steadfast respect for the sovereignty and territorial integrity of other countries, and our mutual desire to work closely together toward common goals.
The President highlighted several infrastructure projects completed with Chinese government assistance, including Sinamalé flats, Maldives' first social housing project; the China-Maldives Friendship Bridge; the Hiyaa housing project in Hulhumalé; the Velana International Airport expansion project and renovation of Ministry of Foreign Affairs building. The President stated that the ongoing micro-grid seawater desalination projects on several islands across the country, with the assistance of the Chinese government, will help to find long-term solutions to clean water shortage issues. He added that, over time, the collaborative initiatives have brought significant economic and social improvements for Maldivians.
The President also conveyed warm greetings and sincere best wishes on the 73rd anniversary of the founding of the People's Republic of China to H.E. Xi Jinping, the President of the People's Republic of China, the government, and the people of China.
Ending his remarks, the President expressed his confidence that the two nations could work together to advance the development partnership over the coming years and beyond.
The Ambassador of the People's Republic of China to the Republic of Maldives, H.E. Wang Lixin, Vice President Faisal Naseem, former President Dr Mohamed Waheed Hassan Manik, cabinet ministers, members of the People's Majlis, and senior officials of the government attended the reception.