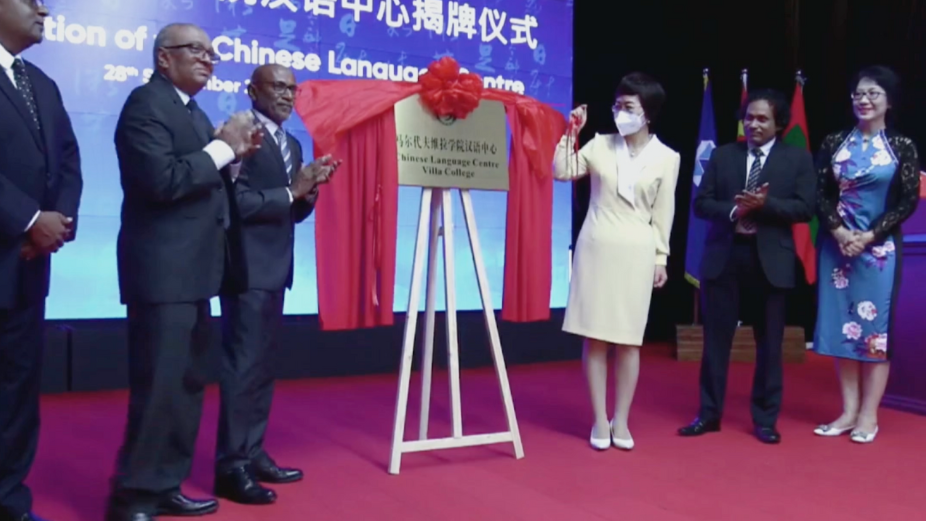 A new Chinese language learning centre has been opened at Villa College.
At the inauguration ceremony held at Villa College, the centre was inaugurated by the Chinese Ambassador to the Maldives Wang Lixin and Foreign Secretary Ahmed Latheef.
The centre, "Chinese Language Centre" (CLC), will be a joint operation by China's Chang'an University and Hunan Mass Media Vocational and Technology.
The centre will have four courses available to the students, including 'Tourism Chinese' which aims to help Maldivians communicate with Chinese tourists. Another course, 'Business Chinese' will benefit students in learning about companies focused on Chinese language. It will have two levels.
Other courses such as "Easy Approach to Chinese" will focus on teaching students to converse with each other in Chinese, while a course called "Easy Chinese" will be aimed at students from Grade 1 to Grade 7.
At the inauguration ceremony, H.E. Wang Lixin spoke on the relationship between Maldives and China and how close it has gotten over the years. It is hoped that the new Chinese Language Centre will pave way to an even stronger bond between the two nations.