Zoona Naseem, Owner & Co-Founder of Moodhu Bulhaa Dive Centre told her story and how she balances her work and personal life at the Maldives Women Entrepreneurs' Summit held at Corporate Maldives Business Expo.
Zoona said when starting a business, one should look into doing something unique, different and something that you love to do. In a time when it was not so common for girls to work at a resort, she spent 18 to 20 years working at a resort, including 8 years at the international hotel chain Banyan Tree and Angsana as their Area Marine Recreations Manager overseeing their 5 Dive Centres and water-sports. She defied the odds and continued to follow her mind.
After the birth of her 2nd daughter, she started her business Moodhu Bulhaa Dive Centre. She has trained a lot of locals into the professional level with the main focus given to increase the number of local female professionals in the dive field.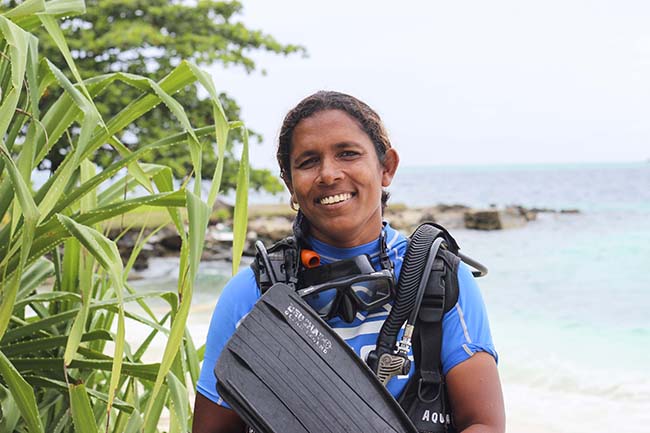 In 2017 she became the Maldives second and the very first female to obtain the rank of PADI Course Director level which represents just 1% of the dive industry.
Zoona is committed to encouraging children to love the ocean and to convince the parents that the ocean is a 'safe place'. She believes that a country like the Maldives which is comprised of just 1% of the land, the ocean should be our playground. She said that taking a walk in Male' or giving children mobile phones with the internet is more dangerous than going to the sea.
When asked about how she balances her personal and work life, she advised the audience to choose their partner wisely. Zoona said without the support from her husband, she wouldn't have come this far.
Zoona has received the Rehendhi Award 2018 for the women working in the non-traditional field category National Award in 2018 for the recreational scuba diving category as well as the international Ocean Award 2019 for the 'Local Hero' category.