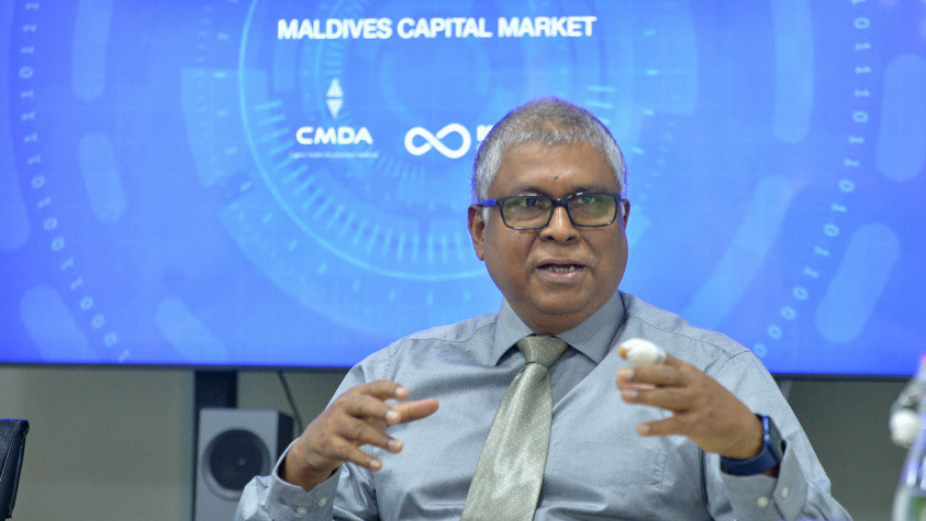 The Capital Market Development Authority (CMDA) and the Maldives Stock Exchange (MSE) are working to develop the capital market. A joint press conference was held yesterday, 14th December 2021, to reveal the various works being carried out to do so. The press conference was led by Chief Executive Officer of CMDA, Mr. Mohamed Hussain Manik, and Mr. Mohamed Aushan Latheef, Chief Executive Officer of the Maldives Stock Exchange.
Speaking at the press conference, the most important point noted by Mr. Mohamed Hussain Manik is that since the government is planning to privatize state-owned companies next year, CMDA is carrying out work to empower and increase public participation in the policy. In this regard, if the privatization of state-owned companies is carried out through the capital market of the Maldives, in addition to accumulating funds needed by the government, public shares in the ownership of state-owned companies will increase, and income opportunities will increase in the Maldivian community.
In addition, he noted that CMDA is working to introduce and implement technologies to modernize the growth of the Maldivian capital market. These include an online system to buy and sell shares shares and other types of financial securities, a depository system, as well as a a mobile application. While these technologies are to be implemented, he added that the government has now formally assured to provide funding support for resources.
Speaking at the press conference, Mr. Mohamed Aushan Latheef stated that the Maldives Stock Exchange is prepared to list state-owned companies, and that the company will provide all the necessary support. He also noted that according to the past of MSE, it is known the sale of shares in IPOs in the Maldives has increased significantly due to the opening of the Infinity Portal (online securities subscription portal). He added that if securities transactions are conducted online in the future, this opportunity will be available to a large part of the Maldivian population, and public participation in the capital market will increase. He also noted that the 'Viyana' platform designed under private placement is a platform that connects investors and companies easily.