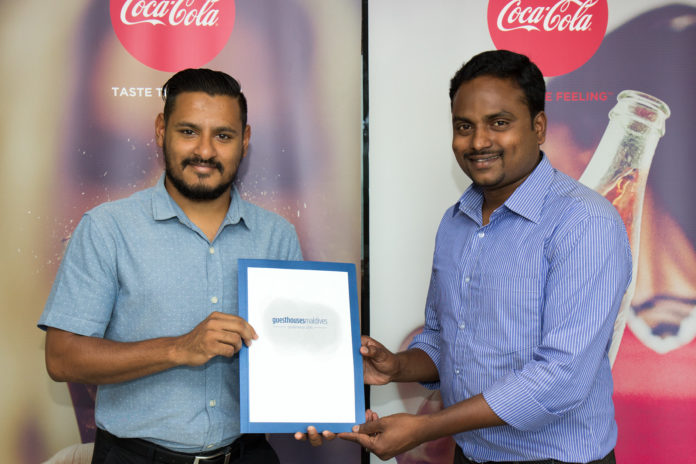 "Coca-Cola" today signed a Memorandum of Understanding (MoU) with Guesthouses Maldives Conference to become the "Beverage Partner' of the event. Taking place in 24th September 2016, "Guesthouses Maldives Conference" will be a one day event with pre-scheduled business meetings, education sessions, networking events and interactive evening functions organised by Guesthouses Maldives Magazine.
This is an invitation only event with participants carefully selected, personally invited and verified against our strict qualification criteria. One day of pure business where we will have a full programme of events scheduled from morning to evening allowing you the opportunity to engage with existing and new prospects. By the end of the conference, everyone will walk away feeling satisfied after one day of networking and making new business connections. The agenda of conference will include, sales & marketing, revenue management, technology, design, photography & videography & suppliers stories.
Created in 1886 in Atlanta, Georgia, by Dr. John S. Pemberton, Coca-Cola was first offered as a fountain beverage at Jacob's Pharmacy by mixing Coca-Cola syrup with carbonated water. Coca-Cola was patented in 1887, registered as a trademark in 1893 and by 1895 it was being sold in every state and territory in the United States. In 1899, The Coca-Cola Company began franchised bottling operations in the United States. Coca-Cola might owe its origins to the United States, but its popularity has made it truly universal. Today, you can find Coca-Cola in virtually every part of the world.
Started in 2014, Guesthouses Maldives the only magazine & conference promoting and providing all essential services to the guesthouse industry. Currently there are over 400 guesthouses in 80 islands of Maldives with 5000 bed capacity.