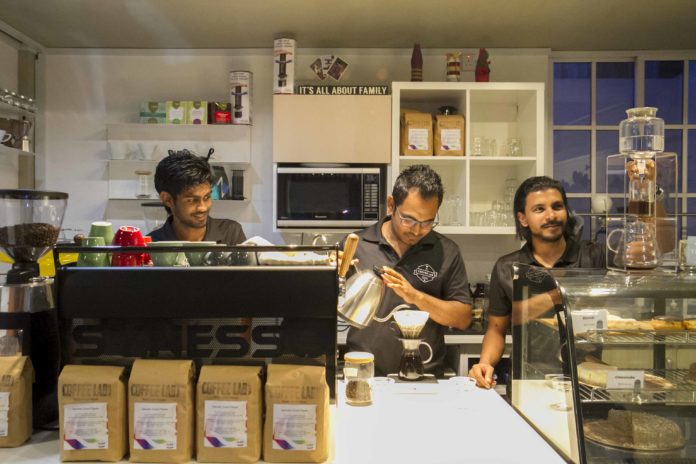 Coffee Lab Maldives, a local pioneer in speciality coffee since 2014, is proud to be the exclusive coffee partner for the 2017 International Travel Trade Show of Maldives (TTM) held at Dharubaaruge, Male from 12thto 13th July.
Coffee Lab Maldives is the brand owner of Family Room café, the first speciality coffee café in the Maldives, and Seaside Grill, a top-ranking establishment. Family Room Café was awarded the Certificate of Excellence, 2 consecutive years in 2016 & 2017, and is also rated the number 1 café on Trip Advisor in the Maldives.
Owner Afrah, being the only licensed Maldivian Q-Grader (a prestigious globally recognised certification in coffee grading), leads the company to focus and is committed to training and developing Maldivian coffee professionals.
As part of its commitment to the development of the Maldivian skilled workforce, Coffee Lab Maldives also partners with the Technical and Vocational Education and Training (TVET) Authority in its Dhasvaaru programme, providing yearly internship opportunities to grade 10 students.
Coffee Lab Maldives also operates a micro-roastery, freshly roasting speciality grade coffee each week, marketing and wholesaling to local cafes and resorts, under its own brand. To support cafés and resorts' coffee service, the company also markets leading global brands of coffee related products;
Synesso – Hand Built, World Famous Espresso Machines
Decent Espresso – State of the Art, small footprint espresso machines
Pullman Tamper – premium quality tamper "100% Australian"
Aeropress Coffee Maker – "A Better Coffee Press"
ACME – Coffee cups used by professional baristas and coffee advocates around the globe
Hario – Heatproof glassware, Made in Japan
The Coffee Lab Maldives Team will be onsite throughout the 2 full days, pulling shots and serving up awesome coffees to show attendees.