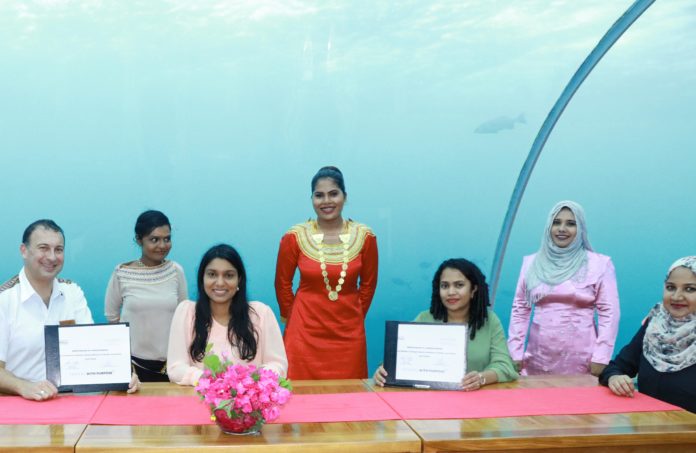 Conrad Maldives Rangali Island signs a Memorandum of Understanding (MoU) with the Ministry of Gender and Family to provide internships for children living in shelter.
In a ceremony held at Conrad Maldives on 23rd July, program manager, Jala Zuhury signed on behalf of the Ministry whereas general manager Stefano Ruzza signed on behalf of the resort.
According to the MoU, children between the ages of 16-18 whom are staying at the shelter will be provided with a one year internship program at Conrad Maldives, where they will get the opportunity to gain experience in the tourism and hospitality industry.
In addition to Minister of Gender and Family, Zenysha Zaki, Vice President of Operations at Hilton Asia-Pacific Danielle Welk attended the ceremony along with senior officials from the Ministry as well as Conrad Maldives.
Minister Zenysha noted that it is one of their aims to welcome the children to the working environment and that the Ministry will continue to provide such opportunities for them to gain work experience in various fields, whilst providing them with the care and protection necessary. The Ministry has previously signed an MoU with Anantara Resort, and 2 children from the shelter continue to attend to their internship under this MoU.