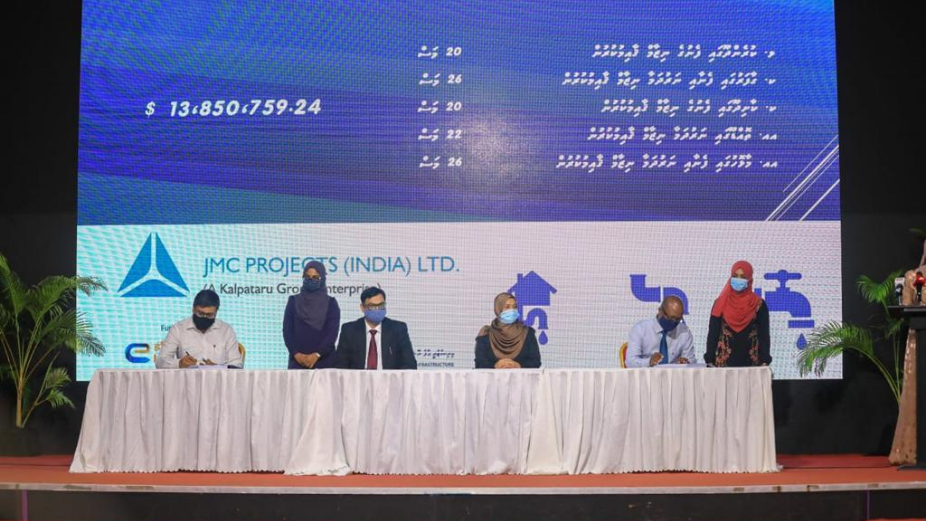 Contracts to develop Water Supply and Sewerage network across 34 islands of the Maldives were signed on 17 March, 2021 in the presence of Minister of Planning, Housing and Infrastructure, Mohamed Aslam, Minister of Finance, Ibrahim Ameer, Secretary (Multilateral) from the Ministry of Foreign Affairs Dr. Hala Hameed and Deputy High Commissioner of India Rohit Rathish. The contracts were signed between the Ministry of National Planning, Housing and Infrastructure and JMC Projects (India) Ltd., SMC Infrastructures Pvt. Ltd., Triveni Engineering & Industries Ltd. and Vishvaraj Environment Pvt. Ltd. The tendering process for the project was undertaken by Ministry of Finance, Government of Maldives.
Development of Water Supply and Sewerage System in 34 islands of the Maldives is the most geographically dispersed of the 9 mega infrastructure projects being undertaken under EXIM Bank of India's Lines of Credit (LoCs) extended to the Maldives. The 34 islands chosen by the Government of Maldives for the project span across 16 atolls viz. Haa Alifu, Haa Dhaalu, Shaviyani, Noonu, Lhaviyani, Kaafu Alifalifu, Alif Dhaalu, Vaavu, Meemu, Faafu, Dhaalu, Thaa, Laamu, Gaafu Alifu and Gaafu Dhaalu.
The project is expected to directly benefit 35,000 people from the 34 islands who will have access to uninterrupted and safe water supply. The indirect beneficiaries include numerous others in the atolls/surrounding islands who are affected by water shortages during the dry season. These people will receive timely supplies. This project is aligned with President Ibu Solih's pledge of delivering clean water and proper sewerage networks to every Maldivian citizen by the end of his 5-year term. With an extensive coverage across 16 Atolls, the project would further enhance the decentralisation efforts of the Government of Maldives.
This is the second among the 9 mega LoC projects being implemented in the Maldives for which contracts have been awarded. To recall, the first of these contracts for development of Road infrastructure and drainage systems in Addu was signed on Feb 21, 2021 during the visit of External Affairs Minister Dr. S. Jaishankar.
Contracts for some other LoC projects – Greater Male Connectivity Project (GMCP) or Male-Thilafushi Link, Expansion of Hanimaadhoo International Airport, etc are expected to be awarded in the next few months.