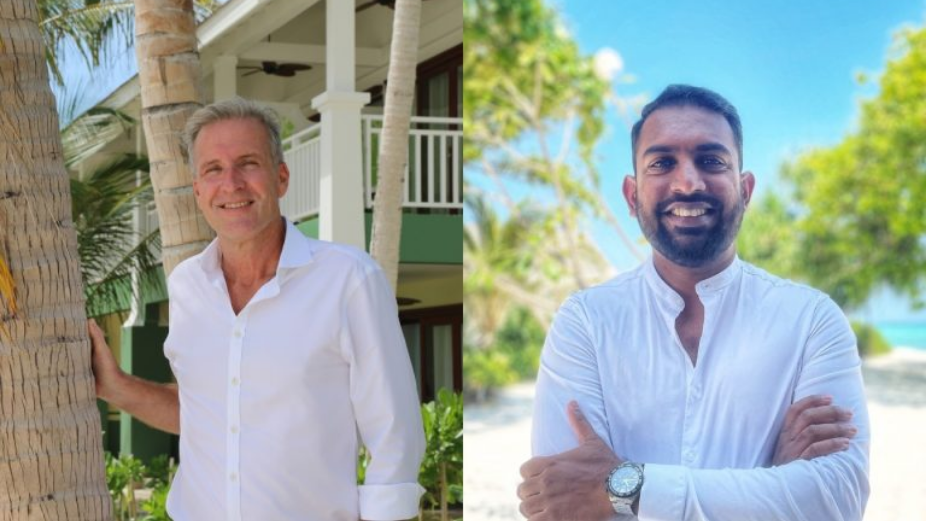 Cora Cora Maldives, a new five-star contemporary resort opening in the unspoilt Raa Atoll on 01st October 2021, has welcomed Martin Van Der Reijden as its General Manager and Vishen Mootoo as its new Director of Sales & Marketing.
Dutch-born Martin has decades of experience working on major hotel projects such as Crossroads, Lux* North Male Atoll, Per Aquum resorts and 16 years with Hilton International.
Having worked in the Maldives for the past 10 years for major hotel projects, Martin has become known in the industry for his solid expertise in leading on all aspects of pre-opening, from planning and construction to team-building, finance and IT infrastructure with a passion for the destination but also in working and supporting local talents. And as a former managing director for hotel interior design company Miaja Design, he will be well placed to ensure a strong design aesthetic, which reflects the setting and culture of the resort.
The redevelopment of Cora Cora Maldives will see the island – 45 minutes by seaplane from Male – open with 100 villas, split between over-water and over-beach. Positioned as an affordable luxury resort with a unique cultural offering, the resort will appeal to couples and families from a wide range of destinations, including the UK, Europe, Middle East and Asia.
"We have a great opportunity to establish a "colourful" resort with a focus on excellent and at the same time healthy food, an interesting museum that includes an art collaboration on an island that is mature and in the meantime beautifully landscaped, where we have also added new pools," Martin commented. "I am proud to be working with preopening experts and see CORA CORA Maldives as a place where people can be themselves and connect with us and our culture and go home with a suitcase full of enriching experiences."
The five-star all-inclusive Cora Cora Maldives – opening 01st October 2021 – has appointed Vishen Mootoo as Director of Sales and Marketing. With more than 15 years' experience with island hotels and resorts, Vishen is known for his clarity of vision, proactive working style and friendly attitude.
He said Maamigli Island, where the resort is located, already feels like a home-from-home. "As an Indian Ocean native, it's like I'm coming to work with my neighbour, which makes this renovation and rebranding project feel very personal and important to me."
Although born and raised in Mauritius, Vishen has lived and worked in multiple countries. This experience, combined with his ability to communicate in several languages – English, French, German and Mauritian Creole – has given him unique insights into the cultures that are key markets for Cora Cora Maldives.
Prior to joining Cora Cora Maldives, Vishen worked with Sun Siyam Resorts, VARU by Atmosphere, Tour East Holdings by JTB, The Small Maldives Island Co (Amilla Fushi & Finolhu) and Centara Hotels and Resorts, among others. He has a wealth of pre-opening experience, helping ensure swift commercial success for new properties. And with such a strong global and regional network, he is well-placed to bring the best talent and expertise to the project.
An affordable-luxury resort, Cora Cora Maldives will consist of 100 villas, four restaurants, two bars, spa, watersports centre, gym, yoga pavilion, outdoor cinema, kid's club, Art Gallery& Museum. Located on Raa Maamigili in the Raa Atoll, it's just 45 minutes by seaplane from Velana International Airport, or 30 minutes by domestic flight followed by a 20-minute speedboat trip.
The resort will replace the former Loama Resort Maldives. Under new ownership and with a completely new design and concept, the rebranding has been a key focus for Vishen.
"Although the basic structure remains the same, everything else has changed. The concept is much more fun, light and colourful than the previous resort, with a completely new offering to appeal to the growing demand for affordable luxury all-inclusive," he explained. "We chose the new name – Cora Cora Maldives – to reflect both the friendliness of the resort and our spectacular, well-preserved house coral reef, easily accessed by swimming from the beach. I'm thrilled to be part of this amazing project," said Vishen. "I can't wait to reconnect with all of our colleagues in the industry, from tour operators and travel agents to destination management companies. We look forward to welcoming you soon to Cora Cora Maldives."
When guests aren't snorkelling or diving in the island's coral-rich waters, they can dine at four restaurants, sip cocktails at two bars, be pampered at the spa pavilion, and work on their fitness at the gym and water sports centre. Cora Cora has the ambition to offer a very attractive Premium All Inclusive Meal Plan, created by Chef Umberto Piccolini who has worked with Martin at Crossroads.
The island's layout and placement of villas will mean couples can relax in a tranquil setting while families can have fun in their own private space or at the island's kids' club. Uniquely for the Maldives, the resort will have a museum of Maldivian culture, with more than 400 artefacts and artworks.