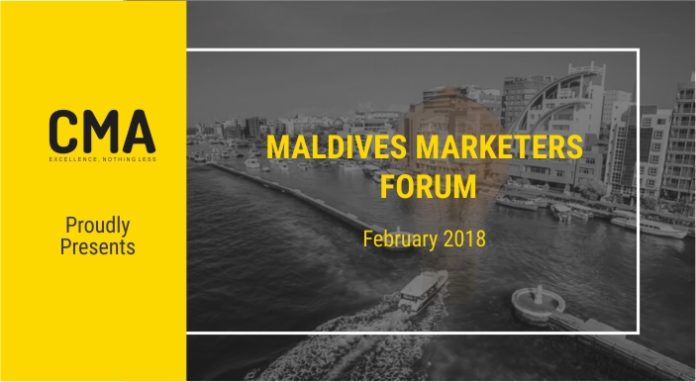 Conferences and industry events are incredibly valuable for the organization and its growth. It is the perfect platform to learn so much from some of the smartest minds and connect directly with thought leaders, strategists, visionaries, researchers and other persons of interest. Whether this is the year you're going to become a conference speaker yourself or you're going to events as part of your content strategy, there is a ton of value in participating in industry events.
Unfortunately, in the Maldives, the concept seems less familiar primarily due to lack of conference organizers to conduct high scale forums connecting and bringing top minds to the Maldives. In response to the much-needed requirement, Corporate Maldives Academy (CMA) Proudly presents "Maldives Marketers Forum", a unique and innovative event designed to engage, challenge and inspire business Leaders and marketers in the Maldives.
Marketing is in a state of constant flux. There are so many solutions and technologies that it can be overwhelming to know which is right for you and your company. The Marketing Forum is a complimentary business networking event catered to senior-level professionals (Directors, Vice Presidents, and CMO's), that will help you make the choices that will drive your business forward.
CMA expects to provide attendees with access to cutting-edge workshops and opportunities to share information with peers. The relaxed environment and luxury hotel will be the perfect venue to engage in discussion about new products, services and technologies and the industry. With the top minds in marketing under one roof, the mutual learning experience is expected to be one of a kind.
AT CMA, we understand how busy the day-to-day work environment is for marketing decision-makers. This event gives 'Delegates' the chance to leave behind the day-to-day hustle to sit down with solution providers who can inspire their thoughts to achieve specific project or goals of both the individual and the organization.
The Forum Experience includes:
• Keynote Speech
• Guest speakers
• Discussion on winning strategies
• Luxury Venue
• Meals and Refreshments Included
• Relaxed Professional Environment
• Unparalleled Networking Opportunities
• "No Hard Sell Environment"
World-renowned high-end trainers from different countries are expected to share their ideas, opinions and insights in the event. The event is planned for February 2018 in a proximate resort to Male'. Date and venue will be announced in the near future. Pre-bookings / reservations and advertising opportunities are available via email training@academy.mv or by call (+960) 9790196. Due to limited seating capacity, availability will be strictly on first come first serve basis. At CMA we believe that this is an event every marketer should include in their 2018 event attendance calendar.