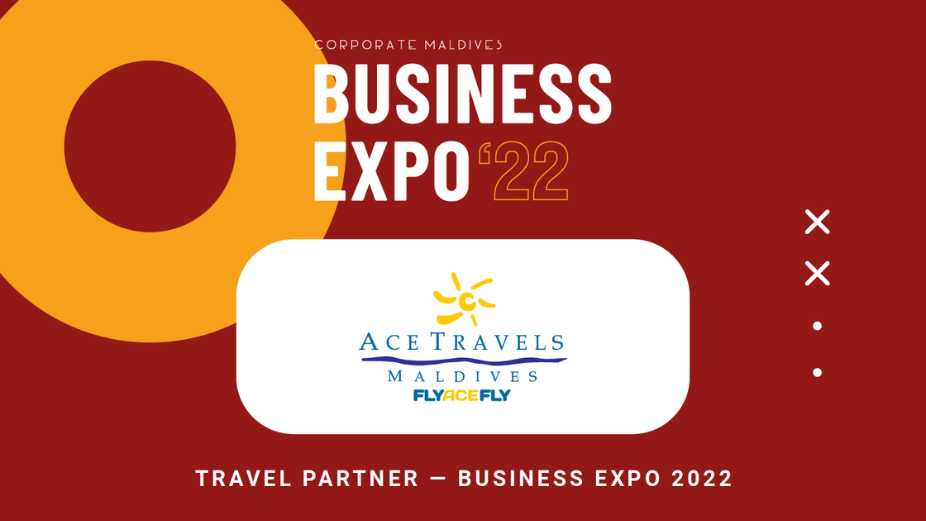 Leading travel allied service provider Ace Travels Maldives (ATM) is the travel partner of Corporate Maldives "Business Expo" 2022, which will be held from 04th – 05th October 2022 at Dharubaaruge.
Ace Travels Maldives (ATM), established in 2002 is a wholly owned subsidiary of Aitken Spence Travels & Inner Maldives Holidays Group. As a leading travel allied service provider ATM has significantly contributed to the development of tourism in the Maldives. ATM commenced operations as a DMC however, diversified into aviation services and outbound tourism since 2007.
Ace Travels Maldives caters to all your needs, where it be airline ticket issuances, medical travel, holiday Ace Travels Maldives, leading Travel Management Company is geared to handle All Airlines (Global), Holiday packages with Activities (Maldives & Global), All Medical travel, Group & MICE Travel Arrangements, Airport Ground Handling Supervision & VIP / CIP Services, and many more.
Corporate Maldives Business Expo is an international business networking & trade show of the Maldives, focused on building valuable relationships within the B2B community. A premier networking event where business exhibitors and corporate professionals can preschedule meetings through Corporate Maldives "Network".
This year, Corporate Maldives Business Expo will use the Corporate Maldives "Network", an online B2B portal for the Maldivian business community will help you connect and network year-round.
As part of the new concept for this event, businesses will be able to pre-schedule over 3000 meetings in the span of 2 days during the Business Expo. "Network" has added features including, virtual profiles and video call features to execute hybrid meetings simultaneously during the event.
During the Business Expo, 3 summits will take place as follows;
Maldives Marketers Forum
Maldives Women's Summit
Maldives Entrepreneurs Summit
The summits will bring the communities together and is intended to inspire and innovate future visionaries.
Corporate Maldives Business Expo will be attended by the entire business community. Over 100 business from different sectors are expected to exhibit and create new business opportunities.
Registrations for Corporate Maldives Business Expo 2022 can be done through: https://network.corporatemaldives.com/
For more information please contact marketing@orcamedia.group