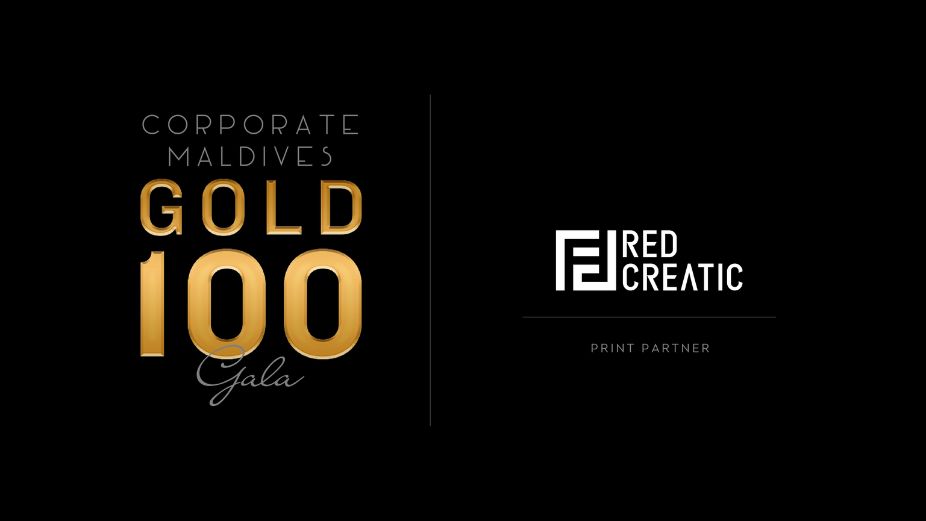 Trusted printing, engraving and designing service provider in the Maldives, Red Creatic is the print partner of Corporate Maldives "GOLD 100 GALA" 2023, which will be held at CROSSROADS Maldives on 16th May 2023.
As a customer-oriented establishment, Red Creatic is maximizing its size in every way to provide the best services in large-format printing, engraving and designing to give creative solutions. RED LLP, registered as a start-up partnership in 2016, has now acquired top-quality machinery and equipment, serving the high-rise industry in Maldives. The company has grown from photocopy servicing in 2016 to billboard printing today and continues to mark its position in the industry, facing challenges head-on.
Corporate Maldives "GOLD 100 GALA" is an invitation-only networking event bringing together top executives of the Maldivian business community and also assisting those in search of new business opportunities. This event will be participated by Chairmen, Managing Directors, CEO & Key Decision Makers within the business community of Maldives.
At the GALA function, "GOLD 100" companies will be presented with an award & the "GOLD 100" magazine will be unveiled. "GOLD 100" is a list of the leading 100 business entities in the Maldives, published by Corporate Maldives every year. Through a transparent and unbiased selection criterion, "GOLD 100" is devised as a selection of the leading business entities, rather than a ranking. As such, the list would be published in alphabetical order.