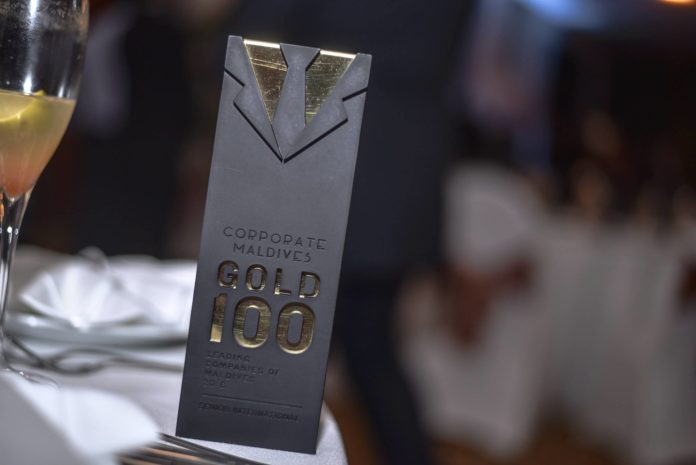 The GOLD 100 award is an award presented by Corporate Maldives to recognize achievement mainly in the business sector of the Maldives. The annual presentation Gala ceremony features appearances by top business individuals in the Maldives.
The first GOLD 100 Gala ceremony was held on February 21st, 2017, to honour and respect the top 100 companies of the Maldives and their accomplishments for the year 2016. On February 22nd, 2018, Corporate Maldives will host their 2nd edition of GOLD 100 GALA event at Bandos Island Resort and Spa. This ceremony will award the leading companies of the country for the year 2017. Additionally, Corporate Maldives is set to award individual company awards for their work in respective fields such as HR, CSR and so on. Exact details are yet to be revealed.
Much like the 2016 edition, Corporate Maldives will also award two individuals the lifetime achievement award to recognize visionary business leaders who have made significant contributions to the Maldivian business community as well as the overall community in general. This award is based on their vision, leadership, business impact, humanitarianism, inspiration and motivation.
Each GOLD 100 award portrays a 12.4 kg standard gold bar which is usually traded by central banks and bullion dealers. This gold bar is seen wearing a business suit and is made and assembled by hand. Conceptualized and designed by the talented creative director of Maldives Getaways, Mr Abdulla Nashaath; each award is engraved with the recipient's name and the winning year.
Much like the Fortune 500 list which recently marked its 63rd year of existence, it is believed that GOLD 100 will go from strength to strength each year and will be the industry standard for top companies.