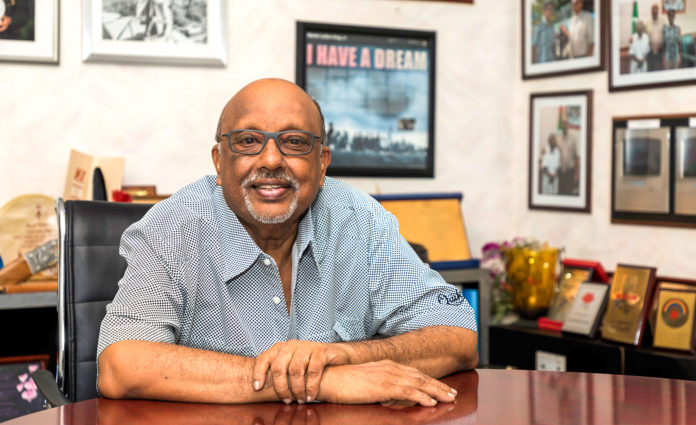 Mr Mohamed Waheed Deen, or more popularly known as Mr Deen, is one of the pioneers of the tourism and hospitality industry in the Maldives.
A humble and soft-spoken man, Mr Deen got his start in the industry as a public relations person and eventually became the General Manager of Bandos Island Resort. He went on to invest in it further to develop the resort on his own after winning a Government bid for the resort.
Mr Deen has worked tirelessly to develop human resources in the country through his resort and several CSR projects that he has initiated. He also manages an NGO, the Institute of Governance and Development, which works towards educating people in the islands.
You are one of the pioneers of the Maldivian tourism industry and one of its biggest success stories. Could you tell us a bit about how you got your start in the industry and what things were like back then?
My first job in the industry was as a sort of guest relations officer. Mr (Kerefa) Naseem was the one who gave me that job. It was right after I returned to Male' from my exile. Mr. Naseem saw me at the jetty and he approached me, asking if I was free to go to Kurumba Village with him for a job opportunity. I agreed and that is how it began.
I was actually working at the bar at Kurumba Village when Mr Ibrahim Noordeen, who was the airport representative for the resort at the time, got the chance to go study in Australia. Consequently, Mr Afeef also told Naseem that I would be perfect as a resort representative. Not long after I found myself working for about twelve resorts as their airport representative.
However, I would say the true beginning of my career was when President Maumoon Abdul Gayoom's Government appointed me as the General Manager of Bandos Island Resort. At that time, I did not have any experience managing a hotel but I had worked in every available position the resort had to offer so I had a ton of knowledge about how a resort worked and operated. Everything I knew about the hotel industry back then, I learned from hotel management graduates who worked for me. I listened to them, getting expert advice, and I applied their collective knowledge into managing the resort.
That was the foundation, and I still enforce strict guidelines that must be followed by all staffs working at the resort – our religion, culture, and tradition is very firmly established in the resort. The most senior staff, as well as the junior ones, must follow the rules. That is non-negotiable.
What was Bandos like when you took over the role of General Manager of Bandos?
The resort had 40 rooms and an additional 25 rooms were scheduled to be developed when I became GM. We had only one restaurant. Despite being equipped with only the most basic facilities, we received immense support from the tourists. They even requested us not to change anything. They loved the untouched by civilization feel, the tropical island setting that they first came and saw and fell in love with. We did follow their suggestion to some extent. As you see, we have still not upgraded most of our room categories as per the modern standard. We simply do routine maintenance in order to avoid mold, fungus and the general wear and tear.
What do you think is your greatest contribution to making Bandos into the success it is today?
I believe that the most important step we took, very early on during the start of Bandos, was to establish a human resources department. In fact, I think we were among the first companies in the Maldives to do so. I myself think that providing your staff with the tools and knowledge needed to succeed is the best thing you can do for any employee. I firmly believe that every employee, no matter where he works, can be an asset. All companies should provide educational opportunities for their staff in order for them to grow and human resource development is crucial for a company to succeed. That is something that we did at Bandos that I am especially proud of because many other companies have followed our example and found this to be true.
What about the most notable challenges you have faced and overcome?
As one of the longest-running resorts in Maldives, we have faced and overcome numerous challenges. Far too many to list or even remember. One thing I would like to note, however, is that some of our employees here have given 16 to 35 years of service to the resort. That is an impressive amount of time for anyone and they do so because we provide every opportunity for them to grow and stay relevant by learning the skills necessary in such a quickly evolving industry. It was a huge concern for me to find a way to assure that those who have worked with us for a long time have a way to contribute to the company in the long run. Many of those who have been at Bandos for a long time didn't start with a huge list of educational achievements under their belt. Hence, we introduced the in-house training programs to educate our staffs. If they want to continue working with us, we will give them the chance; they can get the training required and continue to earn a living.
Finding the funds to make a successful proposal for Bandos when the Government put it up for a bid was also a huge challenge. I had only USD 500 in my bank account at the time. However, my proposal specified I was willing to invest USD 7.8 million to develop the resort. At the time, I hoped that the Government would not go too deep into the details of the investment, but at the same time, I knew I had to find a way to get the funds. As luck would have it, I met Mr. Ong Beng Seng during one of my trips to Singapore and he expressed his interest in entering a partnership with me. I explained to him about my proposal for Bandos and was delighted to find out that he was willing to invest USD 6.5 million into the venture. It was luck, guts and being at the right place at the right time.
You mentioned that you did not have any previous experiences in the hotel sector when you first started. You went on to become the GM of Bandos and now you are the Chairman of Bandos Maldives. This is a tremendous journey and an amazing achievement by anyone's standards. What do you think the secret of your success is?
It is not a secret really. The "secret" is something I openly share with everyone. When President Maumoon approached me to take on the General Manager position at Bandos, I was confident that I was ready to take on something like that. The confidence didn't come from the knowledge I had or the skillset I possessed. It came from knowing that I knew there were educated people, experts, who I could trust in to advise me in the matters that I had no knowledge of, to steer me through the rough parts. And if I found that there was a lack of a certain skill that I required, then I would give someone an opportunity to go to learn the necessary requirements and then come back to advise me. Basically, what I did was, I educated people! I empowered them with the knowledge I would need to make the business into a success. When I didn't know enough to make an informed decision, I found someone who did. And if that person didn't exist yet, I would give someone the opportunity to become educated enough to fill the position required and then advise me. I am a firm believer in listening to the experts and following their suggestions. Always listen to what the experts have to say. Listen to them, learn from them, and practice that.
What is your definition of success?
I define success to the extent one has contributed to giving back to the community. A person can be wealthy but not successful. In my eyes, wealth does not make anyone a success. I think my biggest success is being able to build, grow, and contribute to the community. One of my biggest successes and what makes me the happiest is seeing my staff grow and empower themselves through education. I love that I have contributed to their success stories. They build their life here and then they get to go back home to their families and start their own businesses, and making their own success stories. In order to call yourself a successful person you have to contribute to the development of people, which, I am very happy to say, I have done and Insha Allah, will keep on doing.
What is your advice to aspiring businessmen?
I advise everyone to listen to their employees. Do not think that you are always right. If you are not going to listen to your employees, I do not think that you can be a successful person. Do not ever think that you know everything and that you are the best at everything you do. Consult your staff. Ask for their input.
I remember during one Ramadan, a junior staff approached me and asked me to find a Sheikh for the resort mosque, someone qualified to give taqreer every night after prayers. This was something I had never considered. It had not even occurred to me. I thanked the staff very much for his advice and promptly hired someone for the newly created position. That position has never remained vacant since then.
Where do you see yourself in the near future?
I think I have done what I set out to do. I have created a resort and turned it into a successful venture. I have worked for the Government. I have also had the honor of filling the position of Vice President of Maldives. I don't think there is much that I can do in the future other than contributing towards the success of others. That's something I will continue to do as long as able, Insha Allah.