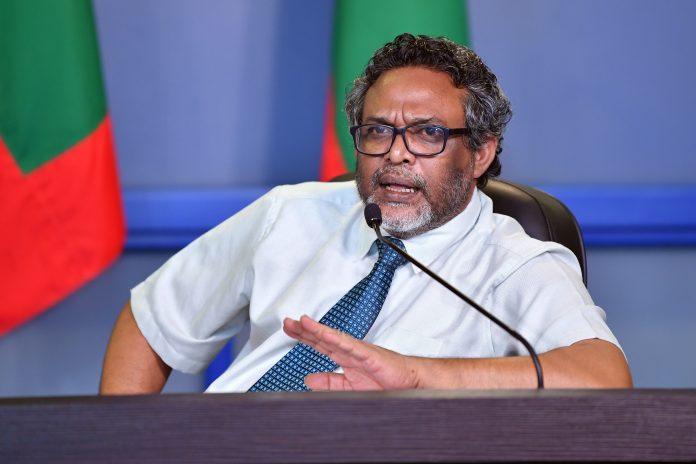 The Presidential Commission on Corruption and State Asset Recovery have submitted its preliminary report to President Ibrahim Mohamed Solih. The Commission also shared insight relevant to the progress of their ongoing investigations with reporters, during a press conference held this evening at the President's Office.
The President of the Commission, Ahmed As'ad, shared details relevant to the Commission's investigation of the grand corruption case involving the Maldives Marketing and Public Relations Corporation (MMPRC). As'ad revealed that 37 islands and 12 lagoons were fraudulently leased for tourism purposes, resulting in a massive financial loss to the State. He stated that the Commission is active pursuing 30 separate cases in relation to the MMPRC corruption scandal; of these, two have already been forwarded for prosecution, and five will be sent for prosecution in the near future.
The Commission's President also added that they are pursuing corruption investigations pertinent to the construction of Dharumavantha Hospital and Fushi Dhiggaru. He explained that new evidence has come to light which the Commission is duty-bound to pursue, despite these cases having been concluded earlier.
The Presidential Commission on Corruption and State Asset Recovery were established on 17 November 2018. The Commission is tasked with recuperating state assets lost from 1st January 2012 till 17th November 2018 and to ensure that all responsible authorities carry out their legal duties in investigating corruption and abuse of power within state and government institutions.