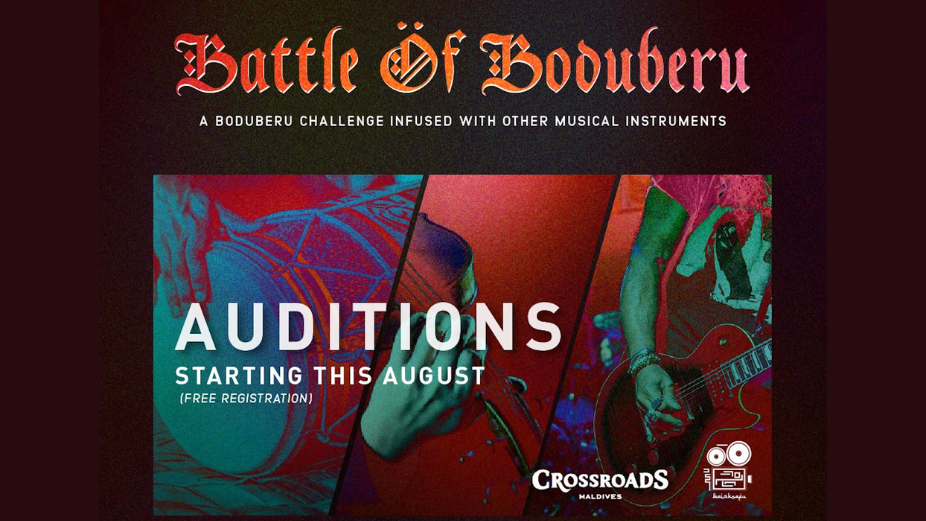 CROSSROADS Maldives has announced "Battle of Boduberu", a Boduberu Challenge infused with other musical instruments in partnership with "BAISKOAFU" (Leading streaming app with a vast collection of TV & Radio shows, films, dramas, music videos and documentaries, and production/programs relating to entertainment and arts.)
The challenge/competition is now open for registration, and applications will be collected until 10th August 2022. After the filtration of the participants, auditions will be held in "BAISKOAFU" studio in Male' in August. Audition dates will be announced after 10th August 2022. Well-known legends of Maldives will judge the contestants, and finalists will be selected by judges' scores and SMS votes.
4 teams will be selected for the Grand Finale, which will be held at Hard Rock Cafe Maldives. The winning group will be chosen after a show with great performances, winners will be awarded grand prizes, and the details will be shared with the media with the Judges' panel.
The purpose of this competition is to create a platform for local artists to show their talents in a unique competition. As this is the first-ever competition of its kind, it will help other musicians make great music with the traditional Boduberu of the Maldives. All the auditions and grand finale performances will be recorded by BAISKOAFU team and can be streamed through BAISKOAFU application which provides content accessible to everyone.
Competition Rules
The Participant/Participants can take part in the Battle of the Drums show as a group/band of 5 or as a solo artist
For all Songs performed, "Boduberu" should be incorporated as the key instrument apart from the selection of
instruments used on the song (Maximum 3 Boduberu can be used as an instrument)
The duration of the song/music should not be more than 10 minutes and shorter than 1 minute and 30 seconds.
All genres of music are permitted, and the competition is open to all the nationalities
Participants are to be evaluated by 50% judge's marks and 50% public voting.
All the segments should be performed LIVE
No registration Fee will be collected from any participating band or performer
All the auditions will be held at BAISKOAFU studio in Male' City.
Only selected Eight Finalists will go for semi-finals, and out of Eight, Four Finalists will be selected to perform in
the Final round at Hard Rock Cafe Maldives at The Marina CROSSROADS Maldives
To Register in the Battle of Boduberu, participants/groups need to send the Group Name, Participant Details (Name, Id card Photo and Contact Number) through WhatsApp or Viber to +960 7307000.
For any inquiries regarding the Battle of Boduberu, please call +960 7307032 & +960 7307042
The Marina @ CROSSROADS Maldives is open to the public for a daily visit from 11:00 am to 11:00 pm, and visitors can book their tickets via the CROSSROADS Maldives mobile application.