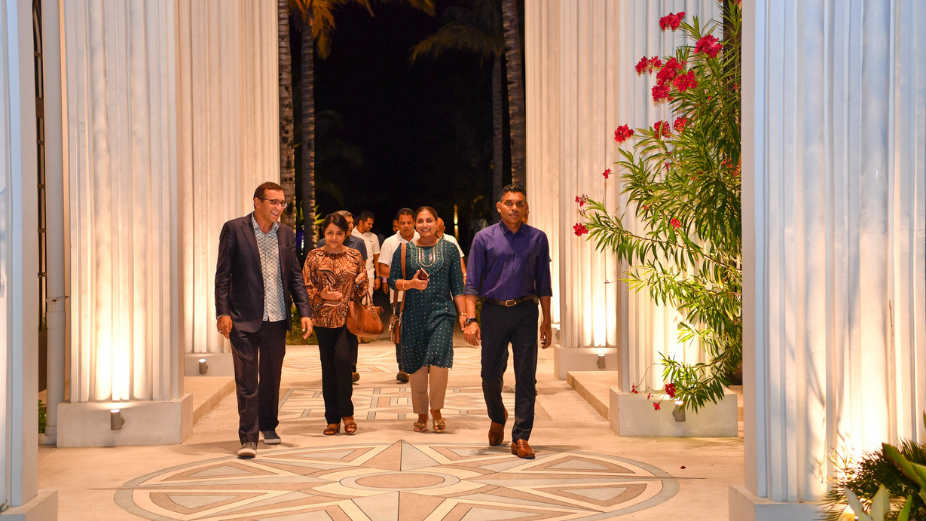 In the spirit of the Islamic holy month, CROSSROADS Maldives, the country's first world-class, multi-island leisure destination, recently hosted an Iftar gathering as a humble gesture of appreciation and gratitude to its corporate partners and government institutions for the ongoing trust & support and continuation of a well-established business relationship with the company.
The high-profile gathering was graced by His Excellency Vice President Faisal Naseem and brought together over 30 influential officials and leaders from various dedicated government institutions and public sector division, as well as business community leaders, who were warmly welcomed by the members of Management Team of CROSSROADS Maldives.
Offering unparalleled panoramic views of the Indian Ocean, the Iftar gathering was held in an outdoor casual setting at The Beach Club, located at the heart of The Marina @ CROSSROADS. It includes a buffet featuring international flair with a Maldivian twist and refreshing Ramadan juices and traditional sweets prepared by our talented local chefs, accompanied by soft background music.
"We are grateful to be able to host an Iftar Gathering for our esteemed corporate partners and government institutions, remarked Tolga Unan, Managing Director of The CROSSROADS Marina and Hard Rock Hotel Maldives. We are thankful for the partnerships that we have formed, which has gone from strength to strength over the years. Certainly, this event was a well-disposed opportunity for us to express our sincere appreciation. On behalf of the entire Crossroads Family, I would like to thank you for sharing the holy month of Ramadan celebration with us, and we look forward to hosting many more in the years to come."
CROSSROADS Maldives features award winning resorts, including Hard Rock Hotel Maldives and SAii Lagoon Maldives – Curio Collection by Hilton®, along with The Marina, which features an 800-metre lifestyle area and beach walk to retail, entertainment and dining outlets. The facilities include Junior Beach Club and Camp, the CROSSROADS Event Hall, Maldives Discovery Centre, and Marine Discovery Centre – the project's environmental and educational hub.