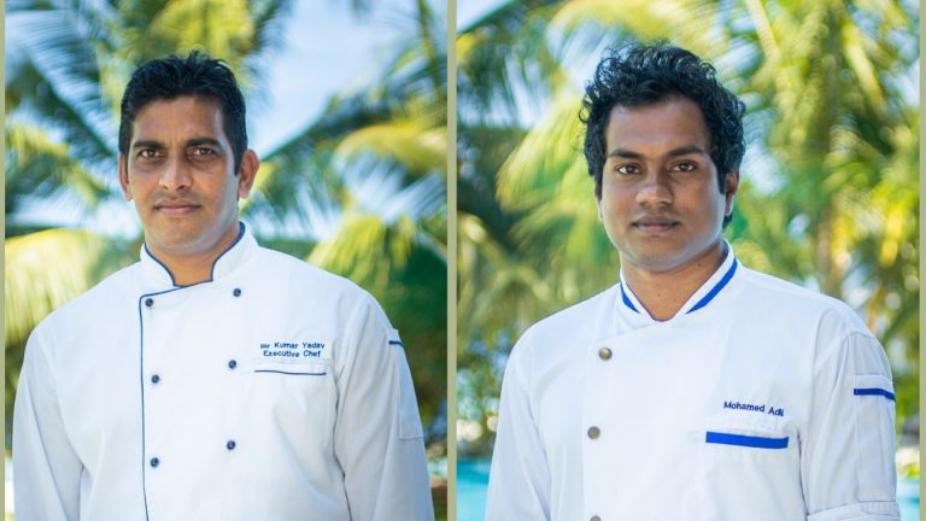 Dhigali Maldives has welcomed Bir Yadav as its new Executive Chef and Mohamed Adil as its new Chef De Cuisine.
Mr. Bir Yadav – Born and brought up in Mumbai, known for a place where you can find every cuisine present and coming from a family catering business which has played a major role in influencing him to pursue his career in Kitchen. Bir specializes in new world cuisine – A blend of ingredients from different cultures and practices to form a contemporary style cuisine, besides this he loves cooking Italian, French, Japanese, South American and Asian cuisine. After working his way through many multicuisine kitchens in the past 17 years, including Four seasons, The Oberoi, Hyatt, Vakkaru and Faarufushi, he is excited to lead the Dhigali culinary team to offer guests the cuisine comprising Fresh ingredients, seasonal harvests, homemade products with a local touch.
Mr. Mohamed Adil – an award-winning chef who has become one of the most accomplished in the Maldives. He has won national and international awards and medals. He was awarded Best Maldivian Chef at FHAM 2016 & 2019, Best Maldivian Chef at Hotel Asia 2018 and in the same year he won a Bronze medal representing the Maldives at the International level in the culinary challenge held in Istanbul, Turkey. He also won gold and silver medals in two different categories at La Cuisine SIAL, held in Abu Dhabi.
As for the future, Mr. Adil wants to be recognized around the world as a chef that represents the essence of the Maldives: "I aspire to be known as a chef who has a magic to turn ingredients into gold through my imagination and art of cooking. I want to do what I love to do. The years do not matter. I love my jacket and would like to see more accolades on them."
Adil joins Dhigali Maldives as their new Chef De Cuisine.
Located in Raa Atoll, Dhigali Maldives can be reached by a 45-minute seaplane journey from Velana International Airport. The island offers 20 Beach Bungalows and 33 Deluxe Beach Bungalows to the South, and 62 Beach Villas which line the north and southwestern beaches.
Dining experiences at Dhigali are innovative and authentic, with the style and atmosphere of each restaurant reflecting the cuisine. There is a particular focus on fresh Asian dishes, including the specialist Asian restaurant Battuta.