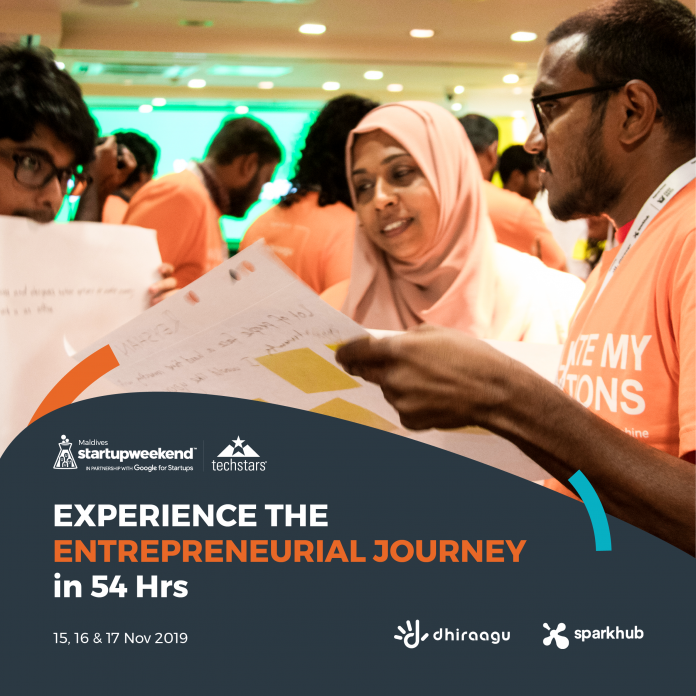 Dhiraagu and Sparkhub has announced Techstars Startup Weekend Maldives 2019 to be held from 15 to 17 November 2019.
Techstars Startup Weekend is a model developed by Techstars, powered by Google for Startups, who have successfully run the model in over 150 countries.  It is a 54-hour event, during which groups of developers, designers and startup enthusiasts come together, network, form teams and learn how to pitch, fine-tune and demo new business ideas over a course of 3 days.  
The intense 54-hour event enables participants to experience the highs and lows of an entrepreneurial journey and puts aspiring entrepreneurs in direct contact with the sharpest business coaches, mentors and panel of judges from the industry.
Experienced mentors from Dhiraagu and from the industry including entrepreneurs and co-founders representing local companies will be providing guidance from the areas of business development, product development and innovation, brand and marketing, legal, finance, tech and entrepreneurship.
Dhiraagu and Sparkhub have been collaborating to strengthen the local startup culture by introducing Lean Startup Machine- the world's leading startup workshop, Angelhack, the first international hackathon in the Maldives and through the Startup Grind X events. The focus is to foster the entrepreneurial mindset and pave the way for the development of the startup ecosystem in the Maldives.
Further details are available on the Startup Weekend Maldives Facebook and Twitter pages facebook.com/SWMaldives and twitter.com/swmaldives