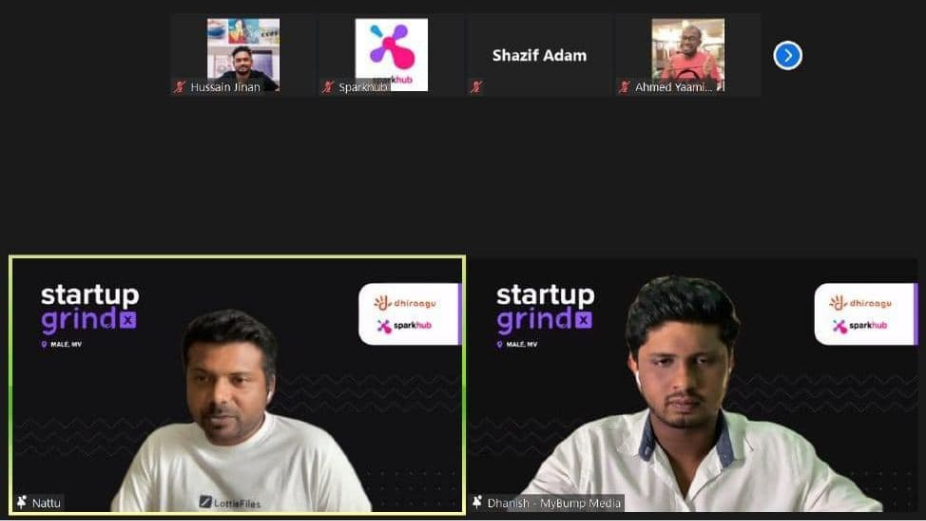 Startup Grind X Male' held its first event of 2021, in partnership with Dhiraagu & Sparkhub, hosting Nasrullah Adnan (Nattu), Co-Founder and CTO of Lottiefiles. The virtual session was moderated by Dhanish Athif, Co-founder and COO of MyBump Media.
Lottiefiles is a San Francisco and Kuala Lumpur based platform founded in 2018 for testing, collaborating and discovering animations mainly catering to a community of animators, designers, developers and engineers. The JSON-based Lottie animations platform has recently raised a Series A of $9 Million from Microsoft and currently claims around 1 million users from 65,000 companies including AirBnb,TikTok, Disney and Netflix.
In his talk, Nattu shared his inspiring entrepreneurial journey from his first startup in the Maldives to highlighting how every step of his journey was a learning experience. He expressed how every experience and failure was used as a learning opportunity to evolve your craft to reach new heights. He also talked on why entrepreneurs need to always be ahead of the game and why being part of an entrepreneurial community is essential.
"During an entrepreneurial journey, no one is going to come and hold your hand to lead you to success. Nobody is coming to hand you what you need. It is up to you to go out there and grind until you learn what it takes and to find what works or not. It is easier said than done and then to blame someone for your failures. You really need to keep asking yourself what good does waiting do for you," said Nattu.
Nattu also reflected upon his earlier forays into startups and how the experiences and failures served as a learning experience for him and how these events shaped his approach and attitude towards entrepreneurship.
Startup Grind is the largest independent startup community, actively educating, inspiring and connecting entrepreneurs across the world to educate, inspire and build a strong network of entrepreneurs. Founded in Silicon Valley, the cornerstones of the global movement are events featuring successful local founders, innovators, educators and investors who share lessons learned on the road to building great companies.
From programmes like the Techstars Startup Weekend Maldives to Lean Startup Maldives, Dhiraagu and Sparkhub have been focusing on fostering the local startup culture. Some of the previously hosted Startup Grind X Male' featured lessons learned and the road to success from entrepreneurs such as from Hologo World and from MyBumpMedia.
The recording of Nattu's fireside chat can be viewed on Startup Grind X Male' Facebook page via https://fb.watch/5FMGFGbY8A/