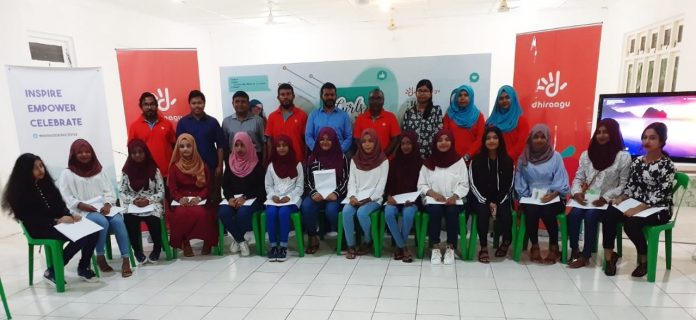 Women in Tech, Maldives in association with Dhiraagu has successfully concluded the 'Girl to Code' program in Fuvahmulah last Friday.
The program which began in September at Institute of Logistics and Technology saw the participation of total 16 girls from the age range of 14-20 years old.
The participants were awarded with certificates yesterday by the mayor of Fuvahmulah city, Mr. Falaah Shareef, the Chief Guest of the closing ceremony for the program. The ceremony also highlighted the best 3 websites created by the participants and awarded them with a token of encouragement.
'Girl to Code' program intends to provide the opportunity for individuals who are interested in web development and coding. The participants were taught to develop a web by using HTML, CSS and, Javascript. In addition to this, after the completion of the program, the participants will be able to develop the web practically.
According to Women in Tech Maldives, girls in the technology field are less in number and Girls to Code program is to introduce technology field to girls.
Dhiraagu stated that encouraging girls to use technology is in their CSR program.
After this program, another series of these programs are planned to be held in other regions.