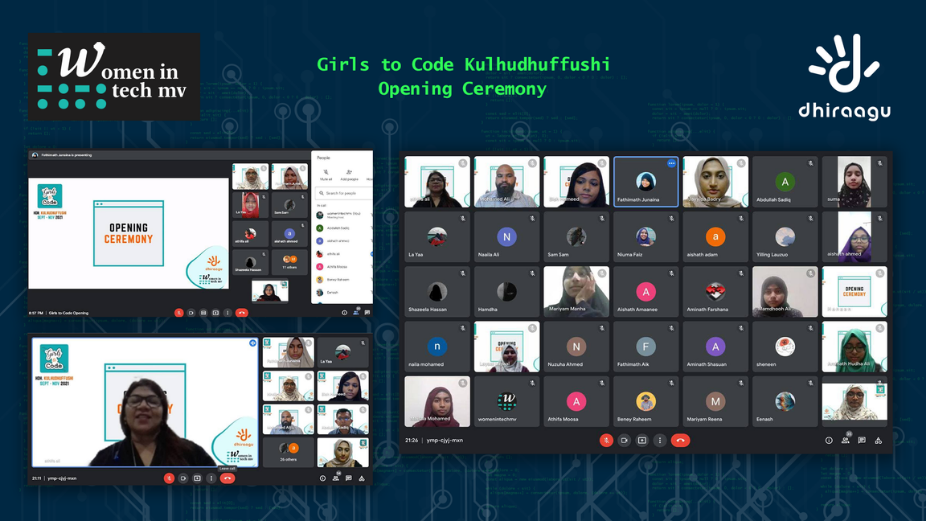 The opening ceremony of Girls to Code Kulhudhuffushi was held on 31st August 2021 with the newly enrolled participants to kick off the programme scheduled for September and October 2021. Girls to Code series is an initiative by Dhiraagu and Women In Tech Maldives to train young girls on coding and inspire  them to the field of technology. Girls to Code Kulhudhuffushi is the third edition of the series following Girls  to Code Fuvahmulah and Girls to Code Thinadhoo.  
During the opening ceremony Athifa Ali, Director Corporate Services, Dhiraagu, highlighted that with each series of #GirlsToCode, there is an increase in responses from every island, signifying the interest of girls  in learning tech. She mentioned that it is heartening to see the expected achievements of this program. 
Addressing participants, President of Women in Tech Maldives Ms. Hindh Ali emphasized that tech skills  like coding is important for us to keep up with the fast moving digital world. #GirlsToCode program is a foundation for this skill and she encouraged the participants to continue learning and apply it in their daily  life. 
Women in Tech Maldives expressed their gratitude towards the community of Kulhudhuhfushi for their incredible response for the programme.  
Girls to Code Kulhudhuhfushi programme will be conducted virtually for a period of two months starting from 1 September 2021. Girls aged between 14 to 20 years were given the opportunity to participate and were not required to have prior knowledge or expereince of computer programming. Participation in the programme is free of charge.
Girls to Code program will teach participants to develop a website by using HTML, CSS and Javascript. By the end of the program, the participants will also have the opportunity to practice what they have learnt by  creating a website of their own.