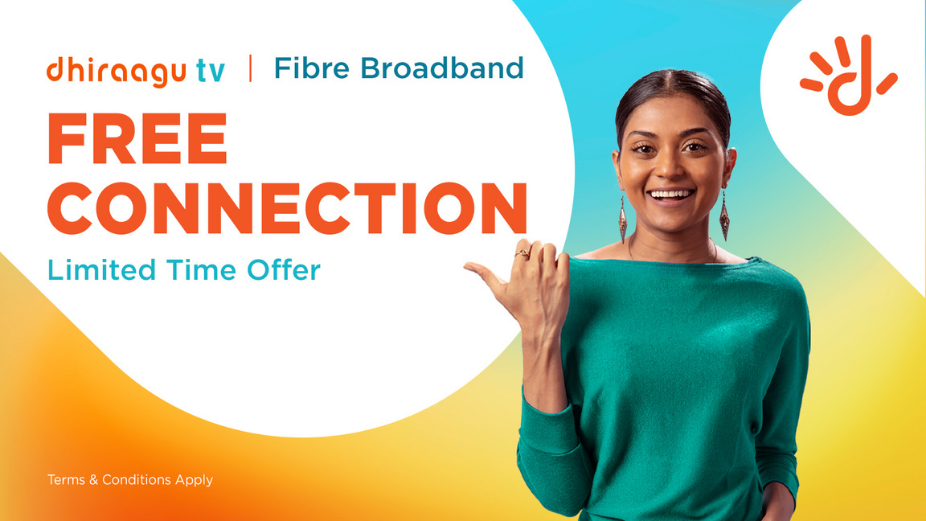 Dhiraagu has launched a special promotion offering FREE connection for customers applying for Dhiraagu Fibre Broadband and FREE connection along with FREE joybox (set-top-box) to all customers applying for DhiraaguTV before 31 July 2022.
Under this promotional offer, all customers applying for Dhiraagu Fibre Broadband will receive a 50% discount on ONT (router) while first 300 customers applying for DhiraaguTV will receive a FREE wireless keyboard. Additionally, customers will be able to enjoy ALL channels for just MVR 350 till end of September 2022.
Now is the perfect time to apply to join the largest high-speed network in the nation and enjoy high-quality and best entertainment channels available.
With Dhiraagu Fibre Broadband, customers can choose from a great variety of packages that offer bigger data allowances and higher speeds to enhance their digital experience. Our high-speed fibre connectivity is now available to 89 islands across the nation making their lives easier, smarter and more rewarding.
Our diverse channels portfolio on DhiraaguTV is curated for all ages and audiences. It includes the worldfamous Disney bouquet of channels, Sony Sports channels, Discovery Channels, STAR channels, all your favourite local and international news channels, Al Quran Al Kareem and more religious channels to highlight a few. As a result of continued investment in expansion, DhiraaguTV has now extended digital IPTV service to 84% of national households.
Dhiraagu continues to enhance the digital entertainment experience of the Maldivian community by providing exciting new offers and enhancing value offerings.
For more information, please visit: https://bit.ly/3uNnUEn