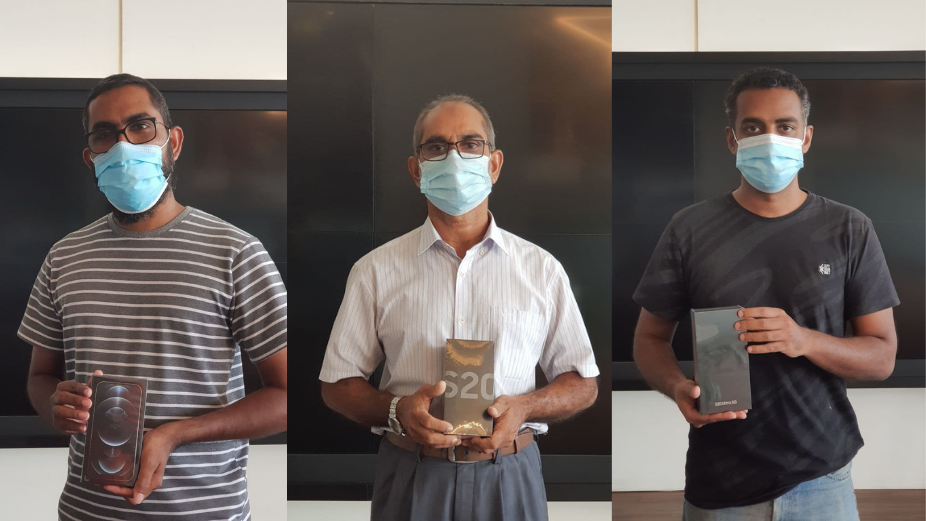 The first Maldivian Augmented Reality (AR) mobile game, "RB Quest" made a comeback with more exciting features. With the new upgrades in December 2020, Dhiraagu announced an exciting promotion where all Dhiraagu customers including Mamen customers can stand a chance to win exciting prizes.
After a competitive run, three winners who reached on top of the RB Quest leader board have been announced. The first winner, Mohamed Hassan who went by the user name "Maavadi", secured the place with a total score of 21,917, received an iPhone 12 pro max (128GB) while the second winner, Mohamed Juman Rasheed or "Lakudibo", who achieved a total 21,528 points won a Samsung Galaxy S20 Ultra. The third winner, Mohamed Shakir Ali or "Karanfu", with a total score of 17,259 received a Samsung Galaxy S20 Plus. The prizes were awarded to respective recipients at Dhiraagu Head Office.
Although the leaderboard competition is over for now, RB quest is still available for download and any Mamen user can collect bonus data by playing the game and transfer bonus data to the Mamen app. This promotion runs until 6 March 2021.
The RB Quest game is compatible with iOS devices which have an AR Kit, and with Android devices with AR Core technology. Both device users can download the game for free from their respective app stores.
Dhiraagu continues to enhance the experience of the Maldivian gaming community while allowing them to earn perks and win exciting prizes.