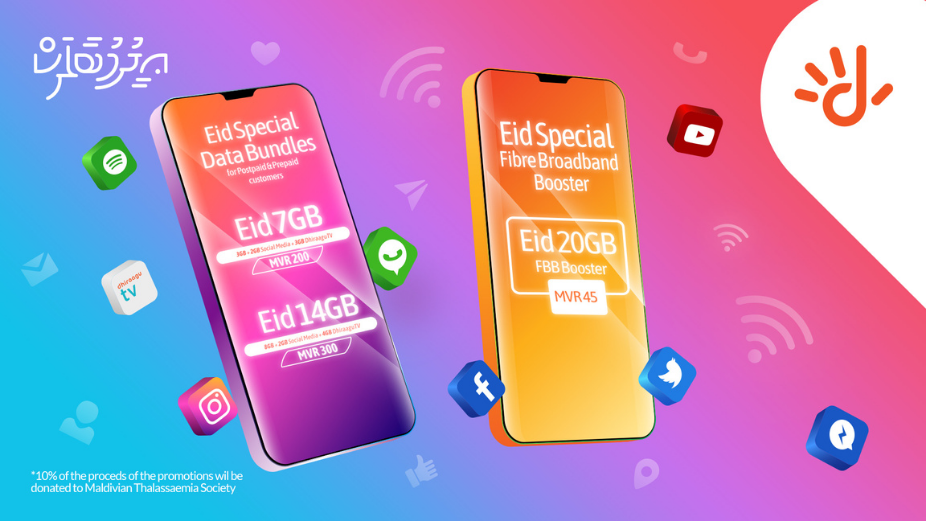 Dhiraagu has announced special Eid offers to all its customers to stay better connected with friends and family and enhance the digital experience.
While further restrictions measures have been imposed in the greater Male' region in order to curb the further spread of Covid-19, we are to celebrate yet another Eid al-Fitr at home. During this period, Dhiraagu states that it wants to make sure all our customers are seamlessly connected and able to share their Eid Moments with their loved ones.  
Therefore, they have enhanced their Ramadan Bundles with DOUBLE the allowance for this Eid without having  to spend additional cost. With these offers, Dhiraagu Fixed Broadband customers can now activate Eid 20GB  FBB Boosters for only MVR 45 which will be valid till the end of the month. Meanwhile, Dhiraagu Mobile  customers can activate Eid 7GB bundle for MVR 200 and Eid 14GB bundle for MVR 300 which will be valid  for 30 days from activation. Customers can activate these Data Bundles between 13 May 2021 to 15 May  2021 via Dhiraagu Mobile App or by sending an SMS to 343 with the Keyword. 
Similar to Ramadan offers, Dhiraagu will continue to seize the spirit of giving back to the community. As part of its CSR efforts this year, the company will be making a special donation to the Maldivian Thalassaemia Society by contributing 10% of the spent by customers from all the Ramadan and Eid Data Boosters and Bundles activated during this period to Maldivian Thalassemia Society. 
As circumstances surrounding COVID-19 is changing daily, Dhiraagu is committed to supporting the community through digital services.