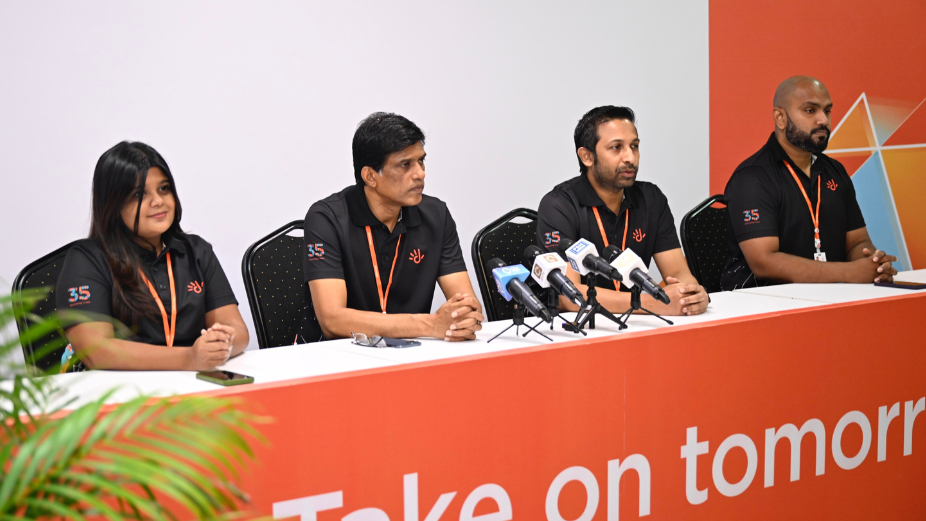 Dhiraagu has celebrated the company's 35 years of enriching lives with the launch of exciting new offers at a special press conference held at Dhiraagu Head Office today.  
Speaking at the press conference, Dhiraagu's Chief Commercial Officer, Ali Riyaz thanked their customers for their trust and confidence in the company throughout the years. "As we celebrate over three decades of service, I would like to extend my appreciation to all our customers, partners, and shareholders for being with us and choosing us on their digital journey. Our work in building a Digital  Raajje and advancing the nation would not have been possible without their continuous support," stated  Ali Riyaz.  
He further stated that the company remained steadfast in its commitment to continue providing seamless, superior service to its customers, bringing them the latest technologies to enable them to  'take on tomorrow' in the digital future.  
Highlighting the company's contributions to empowering digital communities, Dhiraagu's Director Brand  & Marketing Communications, Mohamed Mirshan Hassan stated, "Throughout the years, Dhiraagu has been a leader in responsible corporate governance through our Corporate Social Responsibility (CSR)  programme which covers a wide range of areas – caring for our environment, building our people, and empowering young people to get ahead. As one of the first companies in the Maldives to establish a  sustainability function, we are adamant in our commitment to advance the nation not just as a digital  service provider, but also as a responsible corporation."  
To celebrate its 35th anniversary, Dhiraagu also announced three exciting offers at the press  conference held today: 
• Reload Bonanza: With every reload of MVR 50 and above done via Dhiraagu App, Prepaid customers can get FREE bonus mobile data up to 35GB. Customers can redeem their free bonus data – valid for 24 hours – from Dhiraagu App (https://bit.ly/Dhiraagu-App).  
• Free Router Upgrade: To enable all customers to have better home internet, eligible customers can upgrade their existing routers for FREE. Customers can check their eligibility through the  Dhiraagu App at https://bit.ly/Dhiraagu-App. 
• Dhiraagu eZone: With the all-new Dhiraagu eZone platform, customers can conveniently subscribe to different content and access many more gaming and entertainment-related services from one place. As an introductory offer, customers can get access to FREE mini-game subscriptions every week until the end of October with new content and features added to the platform in the following days. Customers can access the Dhiraagu e-Zone through the Dhiraagu App. 
In addition to these promotions, Dhiraagu will be launching more exciting new offers for customers throughout this month. 
Dhiraagu remains committed to leading the Maldivian digital transformation journey and enriching the lives of people living in the Maldives.