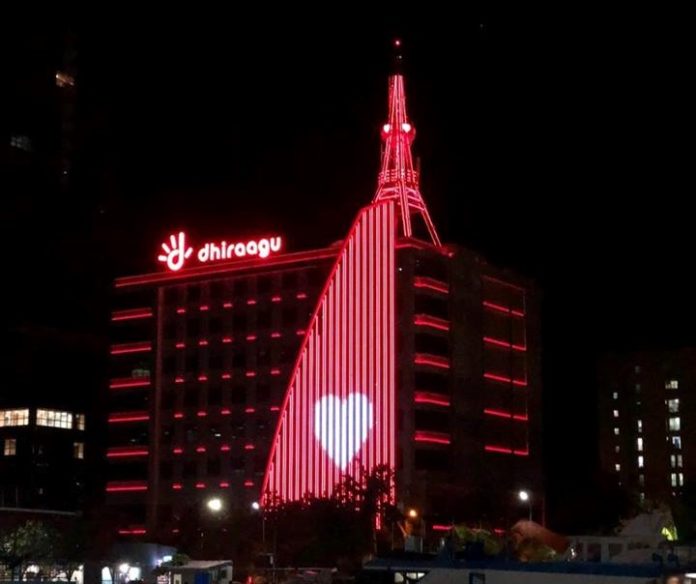 There are several pictures and videos on social media of the heart shining brightly on the Dhiraagu Head office building last night.
The main purpose of the visual show is to celebrate World Heart Day and to spread awareness.
According to Tiny hearts of the Maldives, a voluntary organisation specialised in helping children with heart diseases outlined that the death of 40% of adults and premature child deaths are caused by heart and nerve diseases as reflected from several statistics. Hence, it is a cause for which awareness should be spread around the world.
As part of their CSR, Dhiraagu has been working together with the local NGO, Tiny Hearts of Maldives.
Dhiraagu had introduced two data packs for both postpaid and prepaid customers as special promotions during the last Ramazan. Dhiraagu had also included a special video specialised to spread awareness for congenital heart diseases. The speciality of the data packs is that a certain percentage of the money spent was directly gifted from Dhiraagu customers to Tiny hearts of the Maldives for the delicate little hearts.
Hence, a total of Mvr 41,1068 received from the data bundle packs was handed over to Tiny hearts of the Maldives in a special event organised at Dhiraagu Head office.
Mr Jeehaan Ahmed, Secretary General of the Tiny Hearts said "The donations raised by Dhiraagu through the special packages is the largest donation ever raised by any institution for Tiny Hearts of the Maldives. This has motivated Tiny Hearts to continue its efforts to have a healthier society. I thank Dhiraagu on behalf of the management and children of Tiny Hearts of the Maldives".