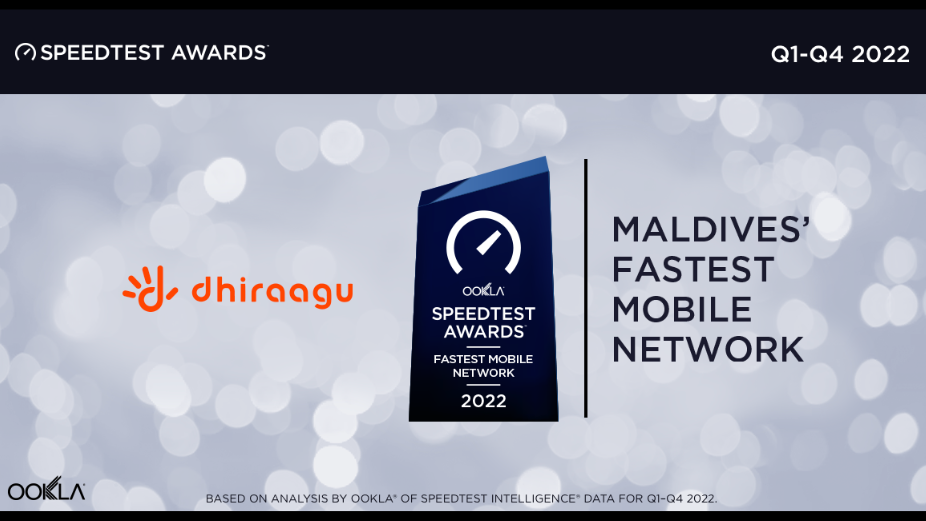 Ookla® announces Dhiraagu as the 'Maldives' Fastest Mobile Network' winner in the Speedtest AwardsTM for Q1-Q4 2022. This is the second consecutive year that Dhiraagu has received this prestigious award. 
Dhiraagu is a leading telecommunications and digital services provider in the Maldives, extending  100% mobile 4G coverage across all 187 inhabited islands, resorts, and industrial islands. This global recognition is a testament to the continued, consistent efforts of the company over its three decades of service to ensure excellent service to its customers and enable them to 'take on tomorrow' in the digital future. 
According to results from tests taken using Ookla Speedtest®, Dhiraagu's mobile network continued to lead the local market throughout 2022, achieving the fastest mobile speed. Ookla® is the global leader in fixed broadband and mobile network testing applications, data and analysis. Speedtest,  Ookla's flagship network testing platform, collects millions of measurements about the daily performance and quality of networks worldwide. 
Dhiraagu continues to play a pivotal role in enriching lives and empowering people through building strong, inclusive digital communities.