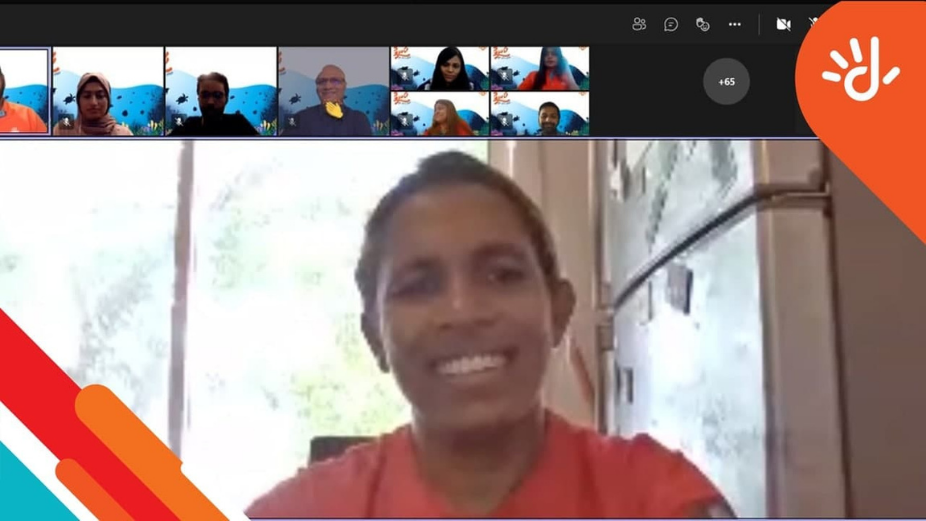 Dhiraagu celebrated World Ocean Day 2021 by hosting a very special virtual ceremony yesterday to introduce Zoona Naseem as the new Brand Ambassador.  
Zoona or well known as Zoonti among our local communities is an exemplary figure who excels in her field.  She is the nation's first female PADI course Director with over 25 years of experience in her career working with people of all ages with a passion to particularly empower women and children. 
Speaking at the event, Ismail Rasheed, CEO and Managing Director at Dhiraagu stated "Care for the Oceans is one of the key focus areas of Dhiraagu's CSR program and we are very happy to welcome an inspirational leader and a professional in the field Zoona Naseem, as our brand ambassador. Working together we can accelerate our efforts with a new push to create urgency and call to action for preserving the oceans, for our lives and livelihoods."
Zoona Naseem highlighted "It is a privilege to be a Brand Ambassador for Dhiraagu. Today we are witnessing one of the biggest environmental issues of our time and these threats have pushed ecosystems such as coral reefs to the tipping point of collapse. I am further excited to use this opportunity to drive positive change for ocean protection. We shall work together to preserve the marine life for our kids and future generations." 
Dhiraagu places great importance in raising awareness against single use plastic. Advocating for the protection and preservation of our natural environment and ensuring environmental sustainability in corporate practices is an important aspect of Dhiraagu's CSR strategy. In October 2016, they introduced a company-wide and public-focused programme – Care for the Oceans to reduce and raise awareness against single-use plastics.  The company introduced reusable bags, water dispensers and stopped using single use plastic bottles at the workplace since 2016. Dhiraagu has also been supporting schools in their plastic free initiatives and have  been engaging in awareness and coastal clean-up programmes. Dhiraagu's Calendar 2020 was dedicated to  Care for the Oceans, by encouraging the public to choose alternatives to single use plastic. The company also raised awareness on the surge of plastic pollution during the Covid-19 pandemic and encouraged the public to responsibly discard items like single-use gloves and masks. 
Dhiraagu states: "This year, we are especially happy to see the concrete initiative taken by the government to introduce the single-use plastic phase-out in the country.  We are committed to continuing our work in this area to call for action for the ocean, for the 'life and livelihoods' together with Zoona as our Brand Ambassador- to inspire and to Take on Tomorrow."