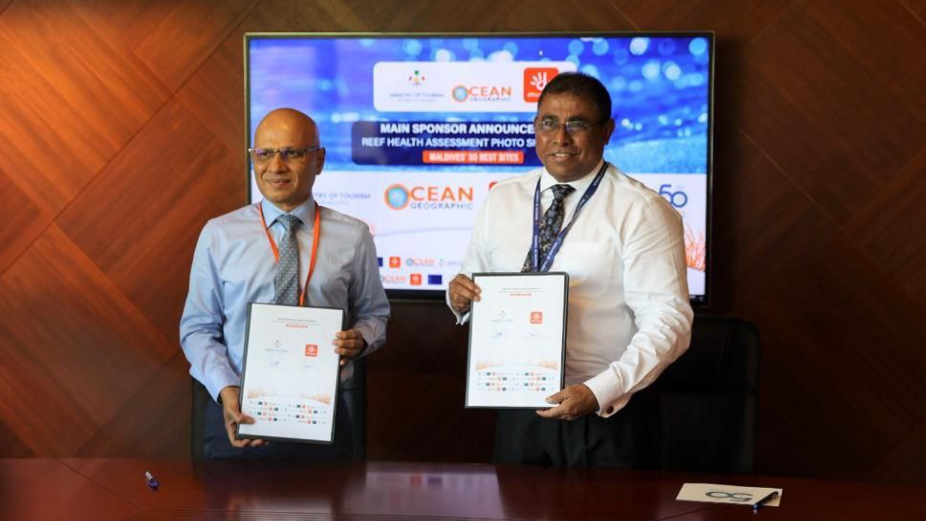 Dhiraagu has partnered with the Ministry of Tourism and Ocean Geographic to support a reef health assessment photo competition, held to commemorate the Golden Jubilee of Maldives' Tourism. 
The main objective of the competition is to serve as a yearly health check of the Maldivian reefs. This photo competition is set to take place on 21 October 2022 and is open to visitors and local divers alike.  
"We thank Dhiraagu and Ocean Geographic for their partnership and also acknowledge the engagement and support of MADO (Maldives Alliance of Dive Operators) for this event to celebrate 50 Years of Maldives'  Tourism. Our reefs are a major part of what attracts visitors to the Maldives. Through this competition, we hope to draw attention to our unique marine environment while also ensuring its health for years to come,"  stated Dr. Abdulla Mausoom, Minister of Tourism.  
"Together with the Ministry of Tourism and Ocean Geographic, we are extremely delighted to be a partner of this key initiative that marks the Golden Jubilee of Maldives' Tourism. Environmental protection, in particular, care for the oceans is a key CSR focus of Dhiraagu. We believe that this underwater photo competition is an important part of the country's conservation efforts, while also showcasing the unique underwater beauty of the Maldives," stated Ismail Rasheed, CEO & MD at Dhiraagu. 
50 signature dive sites will be pre-selected for the competition. From this, participants must submit a portfolio of five pictures for one or more sites. An international judging panel will preside over the photograph selection,  and a winner, runner-up, and three honorable mentions will be awarded for pictures submitted from each of the 50 dive sites. All competitors will also be acknowledged with a Certificate of Achievement for contribution to the Coral Reef Health Assessment of the Maldives. The results of the competition will be announced live on 29 October 2022. 
For more information, visit https://maldives50.site/