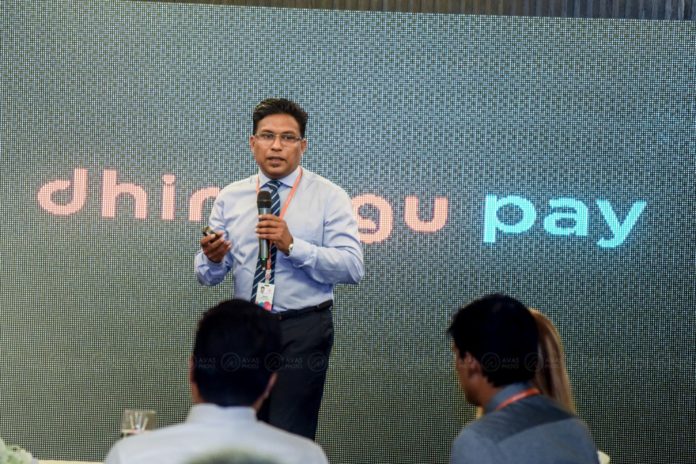 A mobile wallet service was launched by Dhiraagu at a ceremony held in Hotel Jen, Male'. "Dhiraagu Pay" was jointly unveiled by Minister of Finance Mr Ahmed Munawar and Managing Director and CEO of Dhiraagu, Mr Ismail Rasheed.
During his speech, Minister Munawar stated that it is an essential service in the Maldives and that it is a vision to see Maldives as a nation that doesn't use physical money. In addition, he said that a huge percentage of Maldivian population have bank accounts but very few make use of those accounts and by means of mobile payments, things will be made easier, with more people willing to trust the banking system and use their services.
"Dhiraagu Pay" can be used by the company's customers to transfer and receive money. Customers who do not use a smartphone can also use "Dhiraagu Pay" service by dialling *777#. Users can register through "Dhiraagu Pay" application or directly at Dhiraagu customer service outlets. Customers who register on the application can pay up to MVR 5000 and those that register directly at Dhiraagu can pay up to MVR 20000 with "Dhiraagu Pay". Additionally, NFC sticker and QR codes also can be used to make payments.
Managing Director and CEO of the company, Mr Ismail Rasheed mentioned that there are 800000 mobile phone users in Maldives of which majority are Dhiraagu customers. Therefore, he envisions" Dhiraagu Pay" to become the most widely used mobile wallet in Maldives and it would help change Maldivian society into one that doesn't use physical money.
He further stated that the company's target is to introduce the latest technologies to Maldives and having introduced Dhiraagu TV recently as well as going onto introducing e-money. He also highlighted that through the introduction of such a service, the company hopes to bring ease to people's lives.
Dhiraagu launched "Mamen", a mobile plan application during the Youth Fest 2017 – Water Sports Edition organised by the company in Vilingili on the 7th of October 2017.