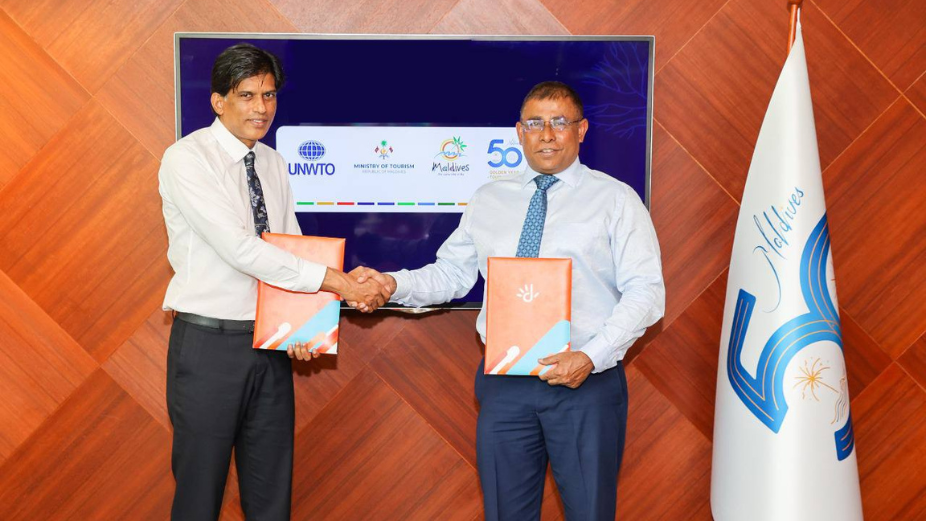 Dhiraagu has signed as the Digital Partner for UNWTO Global Summit to be held at Crossroads Maldives and Paradise Island Resort & Spa from 15-16 June 2022.  
The Ministry of Tourism is collaborating with the UNWTO to organize three key events of the  organization, as part of the golden jubilee celebrations of the tourism industry of the Maldives. This  includes the 34th Joint Meeting of the UNWTO Commission for East Asia and the Pacific and the  UNWTO Commission for South Asia, along with the UNWTO Ministerial Roundtable on Tourism  Resilience through Innovation and Digitalization in Asia and the Pacific, and UNWTO Global Summit on Community-based Tourism. 
"We would like to thank Dhiraagu for supporting the UNWTO Global Summit as the Digital Partner and especially being part of Maldives Tourism's Golden Year celebrations. We are appreciative of  the assistance provided which will allow the summit delegation to stay better connected and  enhance their digital experience," stated Dr Abdulla Mausoom, Minister of Tourism.  
"It is a pleasure to be part of this Global Summit and support the Ministry to uplift the digital  experience. We will ensure the delegation remains connected throughout which will allow local and  global tourism leaders to discuss the contribution of community-based tourism to the achievement  of sustainable development goals and its accompanying challenges from the different perspectives," stated Ali Riyaz, Chief Commercial Officer at Dhiraagu.  
As we celebrate the Golden Year of Maldives Tourism, Dhiraagu as the digital transformation partner for the hospitality industry in the Maldives continues to support the initiatives to celebrate this great milestone.