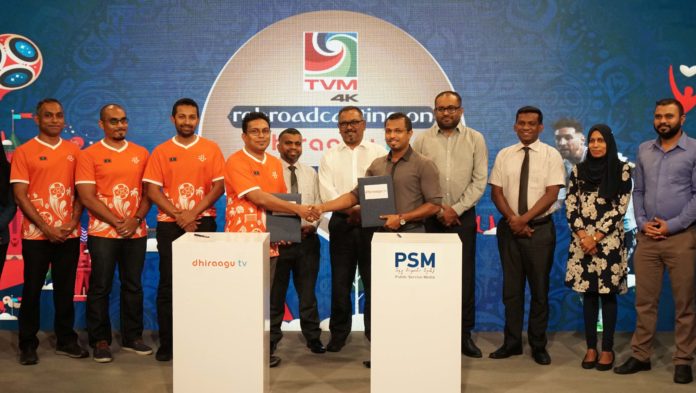 Dhiraagu and Public Service Media (PSM) signs an agreement to re-broadcast the 4K channel launched. The agreement was signed by Director, E-commerce and Marketing Ibrahim Nasreen and acting Chief Marketing Officer of Dhiraagu Ahmed Maumoon.
Speaking after signing the agreement, Director Ibrahim Nasreen said today is a day which will be highlighted in the history of TVM as it launches the first 4K channel in Maldives. This will bring a whole new experience to Maldivians expressing gratitude to Dhiraagu for joining with PSM to re-broadcast the channel, added Ibrahim Nasreen.
Acting Chief Marketing Officer Ahmed Maumoon stated broadcasting 4K channels are introduced in few countries, adding this is a milestone in the history of broadcasting in Maldives.
Furthermore, Deputy Managing Director of PSM Mohamed Ikram Abdul Latheef revealed the test signal will be made available via Dhiraagu, highlighting the service is made available without a fee. The Deputy Managing Director also noted one does not need to change the decoder of Dhiraagu to receive the channel. Moreover, he revealed the opportunity of partnership is available for other re-broadcasters as well.