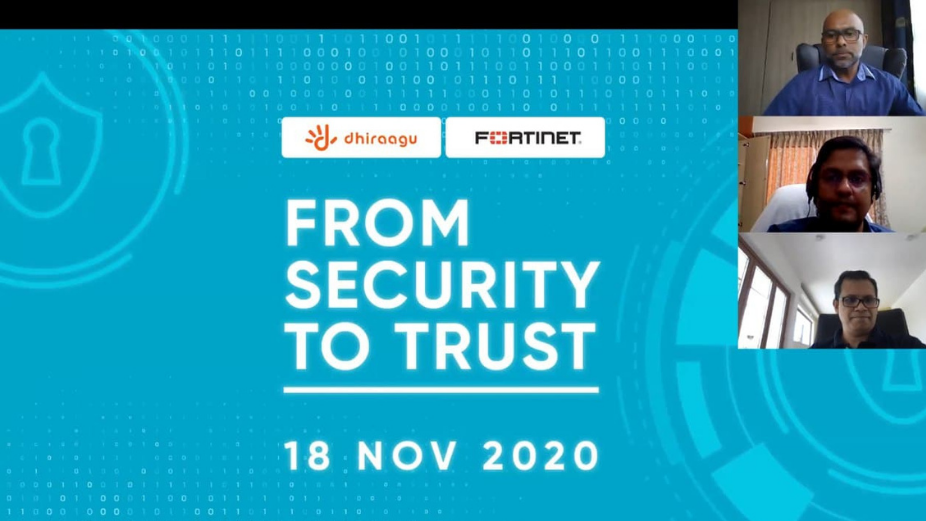 Maldives telecommunication giant, Dhiraagu, together with Fortinet hosts a webinar on Cyber Security. The webinar was hosted on Dhiraagu Evvun Platform.
The webinar, entitled: "From Security to Trust" discussed global security trends, security issues faced by employees working from home during the pandemic and solutions for cyber security issues.
The keynote was given by Shihan Annon, the Co-Founder of Delta Spike Private Limited and the Director of Eguardian Private Limited, DCS International Private Limited and IIHT Sri Lanka. With over 20 years of experience in the cyber security industry, Shihan is a SANS certified expert.
Shihan highlighted the importance of being aware on cyber attacks worldwide and learning how to protect our networks from similar attempts.
The subject expert speaker for the webinar was Fortinet's Principal System Engineer, Krishnan Rajagopalan who has over 20 years of experience in the industry. Krishnan noted that cyber attacks occur 24/7 and with businesses moving towards digital platforms, the number of attacks have increased. He said the businesses need to monitor and increase the security of their network on a regular basis.
The webinar also shared information on Dhiraagu SIEM— Dhiraagu Security Information and Event Management as well as the Backup and Recovery Solutions of the business.
SIEM is a software solution that aggregates and analyzes activity from many different resources across the entire IT infrastructure. Dhiraagu Backup and Recovery is a cloud-based service created specially for disaster recovery and business continuity.
Musthag Ahmed Didi, Director, Customer Solutions said, "The webinar was hosted to provide information on the cyber security issues, ways to overcome them and measures that can be implemented. It further intends to improve relations between the customers and Dhiraagu."