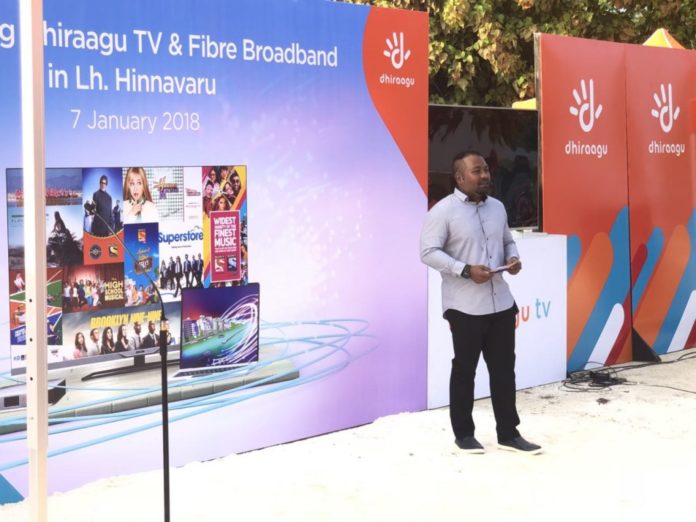 Dhiraagu launched Dhiraagu TV and Fibre Broadband services in Lh. Hinnavaru and Lh. Naifaru in a colourful event held on 7th January 2018.
Dhiraagu provides the first nationwide IPTV service.
With over 80 channels in the introductory package, Dhiraagu TV brings you a host of premium channels, including Disney, which is newly introduced in the country, along with latest movies, TV shows, news channels and much more. The introductory package is MVR 300.
Although Dhiraagu TV service is provided using JoyBox or StepTop Box via a fixed broadband connection, there will be no additional internet charges and the internet download limit (usage allowance) will remain unaffected.
Fibre Broadband is the latest technology used to provide broadband service. Dhiraagu fibre broadband provides the fastest internet speed in the country, at 100mbps, with the largest data allowance of up to 1TB.
There is an on-going promotion forDhiraagu TV and Fibre Broadband. In addition to free set-up and installation of Dhiraagu fibre, there is a 25% discounted monthly fee for every fixed broadband connection. The promotion will be valid for 3 months.
Dhiraagu Fibre-to-the-home has been provided to Male', Villimale', Hulhumale' and additional 17 islands across the nation. ADSL service is now available in all vastly populated islands. In addition to this, Dhiraagu will hold a lucky-draw in every island where fixed broadband service has been provided for their on-going promotion.