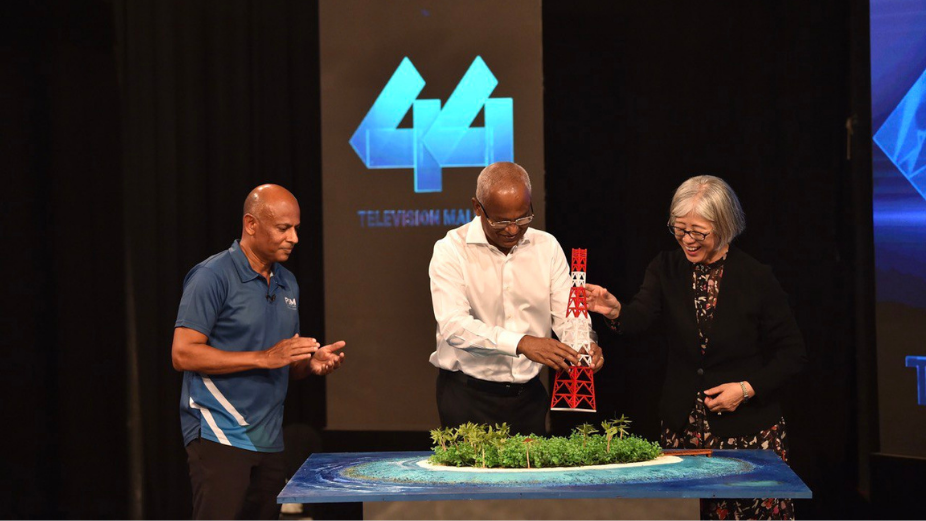 President Ibrahim Mohamed Solih on Tuesday evening inaugurated the "Digital Terrestrial Television Broadcasting Network Development Project". The ceremony was held at the PSM studio in Television Maldives Building.
The Digital Terrestrial Television Broadcasting Network Development Project is supported by a free grant from the Japanese government. The efforts to establish a digital television network was initiated in February 2022. The project set for completion in 2024 would ensure coverage for 90 percent of the population and provide eight high-definition channels for free.
The Digital Terrestrial Television Broadcasting Network Development Project has stopped providing analog signals to 92% of the Maldivian population since 1979. By the end of the project, opportunities will be opened for the first time to terrestrially provide signals to such a large population for PSM as well as the private broadcasters. The most notable feature of this network is its ability to reach out to the populace in case of a natural disaster such as tsunamis and provide other information through data broadcasting.
Although the Government of Japan agreed to commence the project in 2020, the project was commenced on February 12, 2022, as project was halted due to the COVID-19 pandemic. The project is expected to be completed within the next 18 months. The Japanese government will spend more than USD 22 million on this project and the Maldivian government has decided to invest an additional MVR 57 million in the project as well.
Under the project, transmitting and retransmitting sites will be established in 20 regions of the Maldives. The islands are Ha, Dhidhdhoo, HDh. Kulhudhuffushi, Sh. Lhaimagu, N. Manadhoo, R. Ungoofaaru, B. Eydhafushi, Lh. Hinnavaru, K. Vilimale', K. Maafushi, ADh. Dhangethi, V. Felidhoo, F. Nilandhoo, F. Feeali, Th. Dhiyamigili, L. Gan, Ga. Nilandhoo, GDh. Fiyaoree, GDh. Gadhdhoo, Fuvahmulah and S. Hithadhoo.
The Ambassador of Japan to the Maldives, Her Excellency Takeuchi Midori was in attendance at today's ceremony.