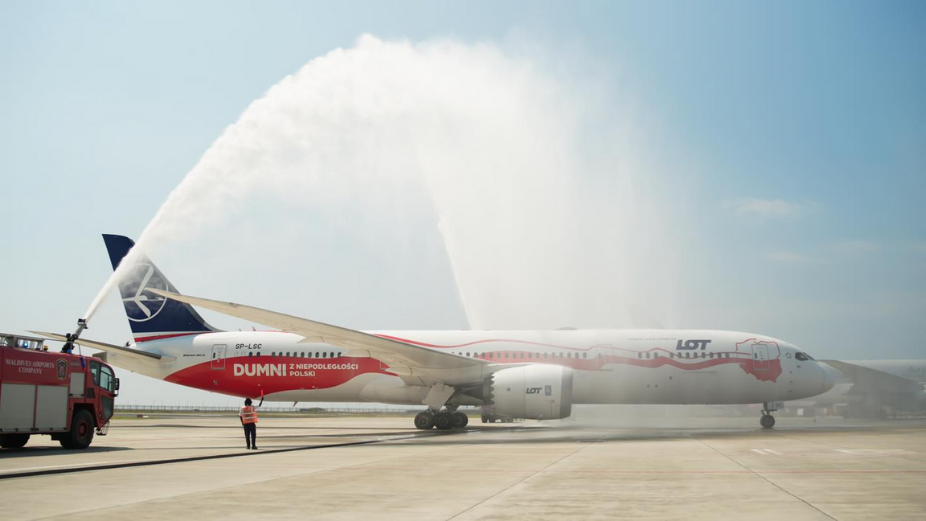 Poland national flag carrier, LOT Polish Airlines chartered flights have commenced from Poland to Velana International Airport (VIA) on 19th February 2021.
The first direct flight from Poland to VIA came last Friday morning with 294 passengers. The airline has confirmed five scheduled chartered flight up to March 2021, with more than 250 passengers and is planned to continue until April 2021. These flights are chartered by Maldivian Travel Agency Sun Ocean Maldives joined with Poland's Itaka.
According to MACL, the commencement of LOT Polish Airline chartered flights will open a new market and will support the recovery of the tourism industry of the Maldives.
Sun Ocean Director of Sales Mr. Rasheed Abdullah and Manager Sales and Marketing said: "An average of 1,150 tourist arrivals per mon were estimated with these flights every week. We believe that this will play a crucial role in the progress of the tourism industry of the Maldives as charter flights will extend with possibilities until 2022."
Since the border reopened, chartered flights operating to VIA are gradually increasing. Due to the COVID-19 pandemic, Maldives' border was closed, reopening on 15th July 2020.