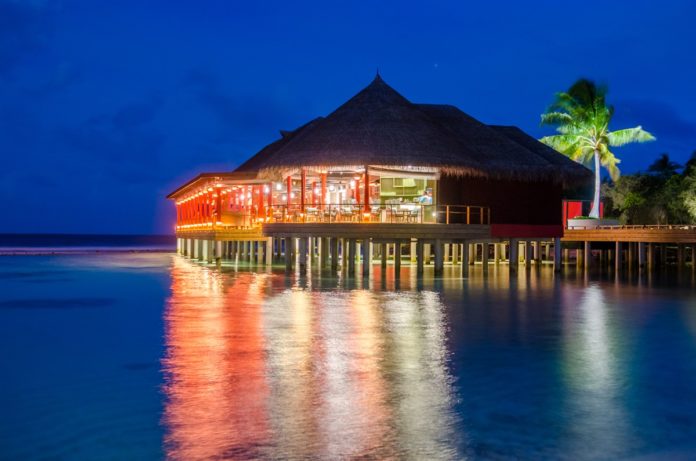 Feeling Koi at Amilla Fushi and Kanusan at Finolhu bagging Regional and Continental Titles at this years' World Luxury Restaurant Awards during the gala ceremony which took place at the JW Marriott Hanoi hotel in Vietnam on July 22.
Feeling Koi received the Award for Best Luxury Hotel Restaurant in the Indian Ocean and Kanusan was presented with the Award for Best Theme Restaurant in the Indian Ocean.
The World Luxury Restaurant Awards™ inspires excellence and ignites healthy competition in the Luxury Restaurant Industry as well as enables restaurants to compete in their chosen category, from a list of 84 categories. The awards promotes the winning restaurants based on culinary excellence and memorable experiences from outstanding atmosphere and service. World Luxury Restaurant Awards™ will highlight those categories for which the restaurant should be renowned, further attracting more attention, not only from food experts, journalists and gourmands, but to a host of visitors from around the globe.
With over 100,000 votes cast for 1,000 entrants in 78 categories this year, the World Luxury Restaurant Awards recognize restaurants across the globe for their culinary excellence and memorable experiences, as well as assessing the quality of the atmosphere and service.
Feeling Koi, the breathtaking overwater signature restaurant at Amilla Fushi, offers authentic modern Japanese dining presented in a playful, Latin-influenced style. Shared dishes are prepared using the finest quality ingredients, and they feature simple yet exquisite presentation with a Latin twist. Bringing an informal and laid-back Izakaya-style dining to the Indian Ocean archipelago, Feeling Koi infuses the Japanese gastropub concept with warm service and a generous pinch of signature Amilla pizzazz.
The restaurant features a Japanese-inspired minimalist design, a private open-air dining room and open deck seating by the water's edge, an open kitchen and a climate-controlled Sake library/private dining room.
The 1 OAK Lounge serves a selection of signature cocktails crafted to suit the stunning tropical setting. The lounge bar downstairs is the perfect destination for an intimate dessert, post-dinner drinks or grooving to live DJs until late. It also hosts a selection of Japanese whiskeys and is a superb way to round off the evening.
Located on the tip of island with sweeping views of the Indian Ocean, Finolhu's premium dining venue Kanusan spans two dining areas: a relaxed indoor dining space, and an open lower deck which encapsulates the archetypal Maldivian experience of being surrounded by the sights and sounds of the sea.
Centered around a stunning duck oven, Kanusan's open kitchen puts its cuisine center stage, embracing the theatricality of its Asian spirit. Classic favourites such as Mandarin roasted duck and Larb Gai are given a refreshing Kanusan twist, while newly created unique signature dishes include steamed snapper and lobster, black truffle roast duck and sliced blue abalone in Kanusan sauce. Seating up to 60 guests, Kanusan also features a vibrant overwater bar area.