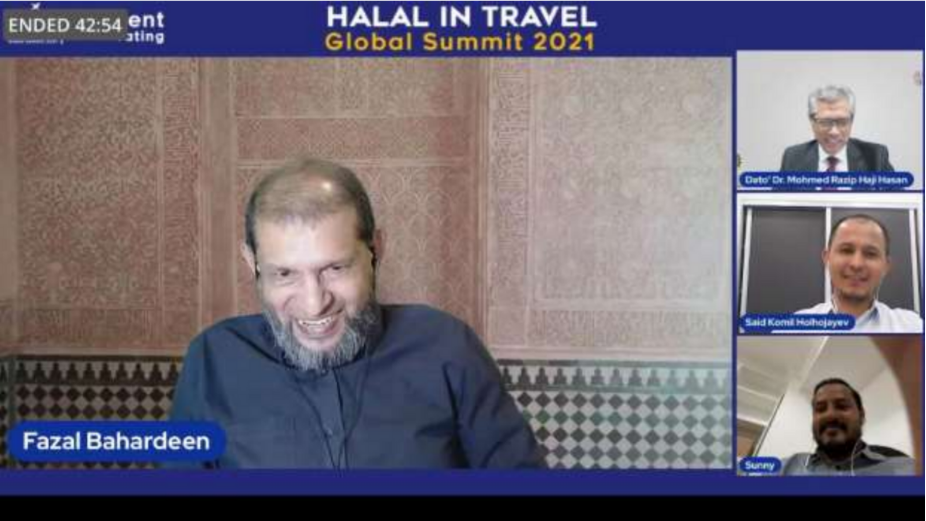 Dr. Hussain Sunny Umar has represented Maldives at the "Halal in Travel- Global Summit 2021" held from July 13th to July 15th 2021. Organized by Crescent Rating, the world's leading authority on Halal Travel, the annual summit takes place each year.
Dr. Sunny represented Maldives in a panel discussion addressing critical challenges in preparing for the post-COVID-19 Muslim Travel Market. The panel was moderated by Fazal Bahardeen (CEO, CrescentRating & HalalTrip) and took place on 13th July 2021.
Endorsed by both the Ministry of Tourism, Maldives and Maldives Marketing and PR Agency, also known as Visit Maldives, Dr. Sunny is the founder of Maldives Halal Travel and Halal Weekly; an international media covering all halal related segments from business to fashion and travel.
Along with Dr. Sunny, Dato' Dr. Mohmed Razip Haji Hasan (Director General, Islamic Tourism Center) and Saidkomil Holhojayev (Head of Halal Tourism Department, Ministry of Tourism and Sport of the Republic of Uzbekistan) was part of the panel.
The session focused on how Muslim-majority destinations are readying for Muslim travel market post-COVID and how destinations such as Maldives have been preparing for the Muslim market. Dr. Sunny spoke about how Maldives has been one of the safest destinations in the world given how naturally dispersed the islands are from each other. He highlighted the active role Maldives has been taking to promote themselves despite lockdowns globally.
Focusing on the halal segment and how Maldives could attract halal tourism, Dr. Sunny mentioned the existing infrastructure is already well equipped to cater to the market but it's a matter of how it is being promoted. "Abundance of extreme privacy, Muslim-friendly amenities and the overall safety and security of the guests are already assured in most tourism facilities in the Maldives given that it's a 100% Muslim country. The need to diversify our target market was the birth of Maldives Halal Travel".
Maldives Halal Travel (MHT) is a platform of products that includes halal news, offers, Maldives Halal Travel Magazine (Print & Digital), Muslim Friendly Travel Rating (MFTR), advisory & consultancy, PR & marketing, trainings, conferences, specialized content creation, visiting designated halal travel fairs & expos as well as hosting Halal Travel Awards.
Maldives Halal travel is creating video and photo content specific to the Arabic segment that would aid partnered resorts to sell their properties in this growing market. Maldives Halal Travel's goal is to compete against the likes of Malaysia and Indonesia who dominate the outbound market of Middle Eastern travelers, eager to drive the entire portfolio of products to the market.
Interested properties are requested to reach out to: marketing@maldiveshalaltravel.com