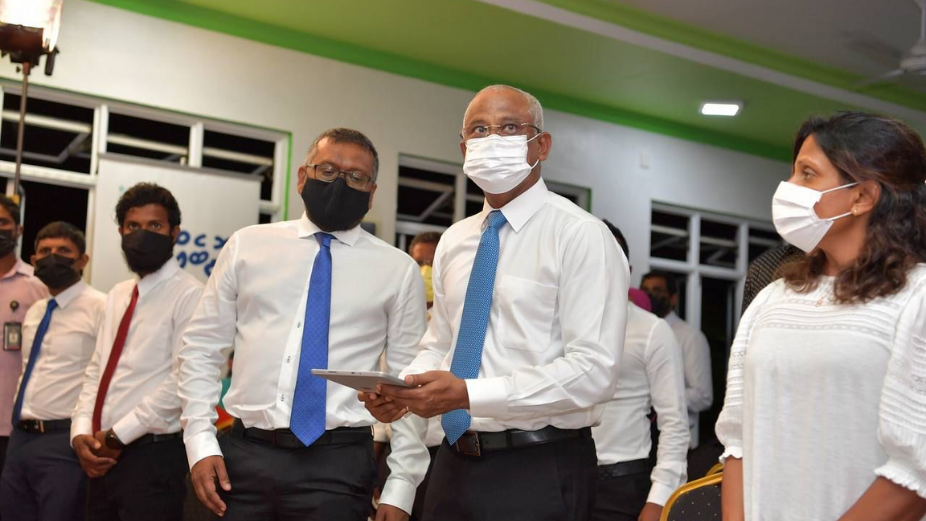 On the 8th of September, the inauguration ceremony of the job center mobile application was held in Raa Alifushi. Along with the president the guest of honor Mr. Ibrahim Solih, other honorable members of the government joined this ceremony. Among these members include Minister of economic development Al-Usthaaz Fayyash Ismail and the parliament member representing Alifushi, Mr. Mohamed Raseedh Hussain.
As per the agreement between Raa Alifushi council and the Ministry, proper planning to provide information about the job center, business registration procedure, and the expat portal has been carried out and it will be implemented. In addition to this, information about business registration and expat portal will be given. The Ministry of Economic Development's officials' will be traveling to Raa Alifushi to provide information about the job center to grade 10 students and other organizations on the island. They have also planned to target different island councils to provide information regarding the job center and carry out training sessions.
The main aim of these training sessions is aware people regarding the latest information's about the job environment, provide information to job applicants in one place and provide the necessary training on how to use the job center platform.
To provide the latest information in the job market in the Maldives, The Economic Development Ministry has relaunched the Job Center – Jobs for Maldivians app with improvements. The new changes brought to the website will help to give more priority to Maldivians when it comes to job opportunities and it will be opening up more opportunities to Maldivian citizens. The job listing, searching for potential candidates, shortlisting, interviewing, and selecting can be easily done through these new changes brought to the website. In addition to this, as per the government's strategic plan to create more job opportunities, this project will be giving offers to people with disabilities and this can be done through the website. This website will make information to available job options more accessible and convenient to the market.
Businesses, NGO's and educational institutions can register on the job center website now as an employer. Furthermore, if any other individual or organization other than these 3 categories wants to register on the website as an employer, they can send an email to the ministry and the opportunity to register will be given.