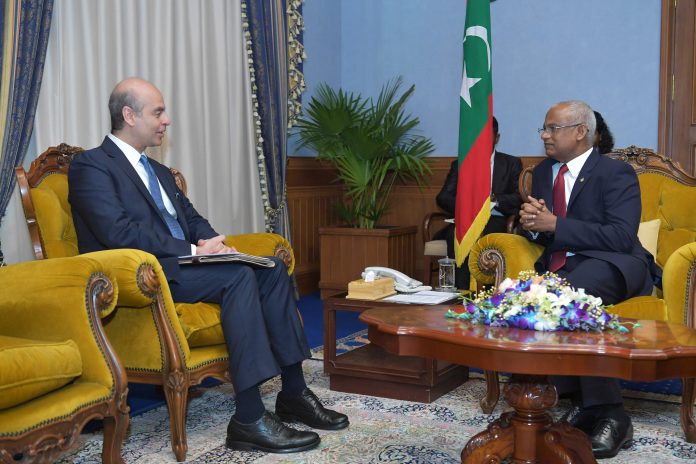 H.E. Hussain Al Saharty, the Ambassador of the Arab Republic of Egypt to the Maldives, has paid a courtesy call on President Ibrahim Mohamed Solih. The meeting was held last morning at the President's Office.
Speaking with Ambassador Al Saharty, President Solih expressed the Administration's commitment to strengthening the strong bilateral relationship between the two countries. He further conveyed his gratitude to President Abdel Fattah Al Sisi and his government for the continued support and assistance accorded to the Maldives in various avenues.
In this regard, President Solih highlighted the annual donation of textbooks to Al-Madhrasathul Arabiyyathul Islamiyya by the government of Egypt, and scholarship opportunities awarded to Maldivian students from Al-Azhar University. The President also discussed enhancing cooperation in the fields of trade and commerce.
Speaking at the meeting, Ambassador Al Saharty applauded President Solih and his Administration for the leadership displayed in promoting regional development. He further expressed the Egyptian government's keenness to enhance cooperation in the areas of health, trade and commerce, counter-terrorism and maritime safety.