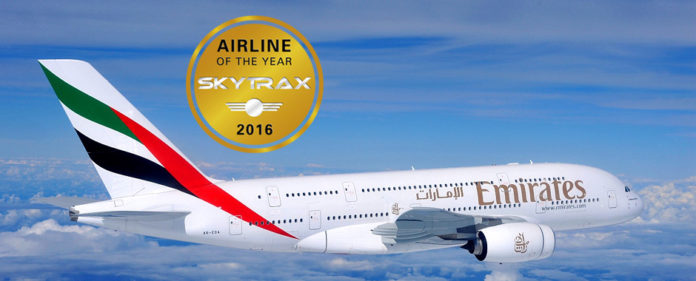 The world's best airline for 2016 is Emirates, according to a survey of millions of airline passengers conducted by Skytrax.
The international airline, based in Dubai, won the top honors at Tuesday's Skytrax World Airline Awards ceremony at the Farnborough International Airshow in England.
As jet engines screamed from the Farnborough airfield and thousands of visiting aviation geeks explored the airshow, smiling flight attendants dressed in brightly colored uniforms stepped to the stage as each award was announced.
The survey underscores the consistency of the quality service among the world's top carriers, said Edward Plaisted, Skytrax CEO. "The Middle East airlines have continued to dominate," Plaisted said after the ceremony. "Virgin America continues dominating on the customer side in North America. Turkish Airlines is a big favorite."
The awards run the gamut from 73 categories from best economy class onboard catering to best airline staff to best seats to best cabin cleanliness.
The top 10 best airlines were named as:
1. Emirates
2. Qatar Airways
3. Singapore Airlines
4. Cathay Pacific
5. ANA All Nippon Airways
6. Etihad Airways
7. Turkish Airlines
8. EVA Air
9. Qantas Airways
10. Lufthansa
Other winners included:
Transatlantic Airline: Lufthansa
Transpacific Airline: Eva Air
North American Regional Airline: Porter Airline
Airline Staff in Asia: ANA airlines
Regional European Airline: Aegean
Airline lounge: Star Alliance
Airline in Southern Europe: Turkish Airlines
Airline in Northern Europe: FinnAir
Airline in Western Europe: Lufthansa
Airline in Eastern Europe: Aeroflot
Airline in Africa: South African Airways
Airline in Australia/Pacific: Qantas
Airline in Central Asia: Air Astana
Airline in China: Hainan Airlines
Airline in Central America/Caribbean: Copa Airlines
Airline in S. America: LAN Airlines
Airline in N. America: Virgin America
Airline in Asia: Singapore Airlines
Airline in Middle East: Emirates
Airline in Europe: Turkish Airlines
Low-cost airline in Australia & Pacific: JetStar Airways
Low-cost airline in Asia: AirAsia
Low-cost airline in Central Asia & India: IndiGo
Low-cost airline in China: Spring Airlines
Low-cost airline in South America: Azul Brazil
Low-cost airline in North America: Virgin America
Low-cost airline in Europe: Norwegian
Lounge dining business class: Turkish
First class lounge dining: Air France
Airline staff service Africa: Ethiopia Airlines
Airline staff service Aus Pac: Qantas