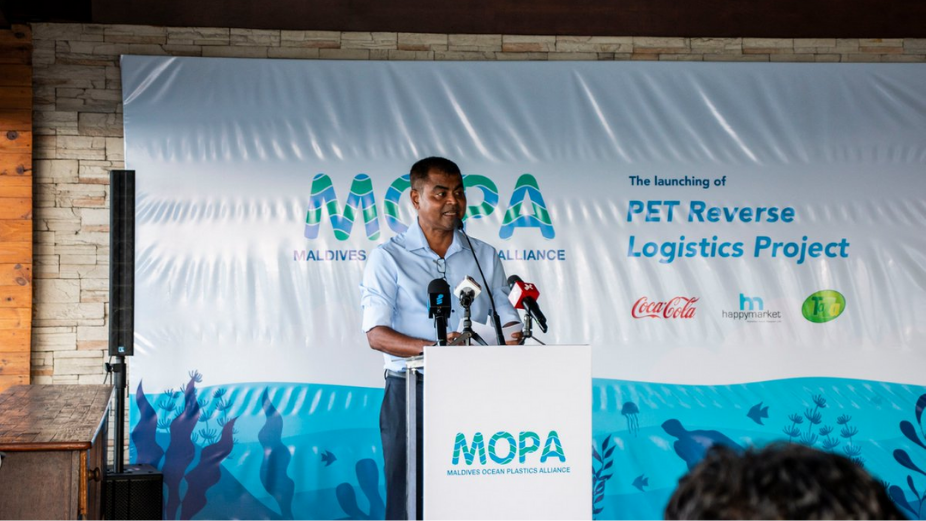 The Maldives Ocean Plastics Alliance (MOPA) has yesterday launched its flagship 'Plastic Reverse Logistics Project'. In a ceremony held in Seahouse Café, Male', the project was inaugurated by the guest-of-honour, Minister of Environment, Dr. Hussain Rasheed Hassan. The ceremony, which was live-casted, was attended by MOPA's Executive Committee and partners.
In his remarks, the Environment Minister congratulated Founder and President Thoriq Ibrahim and MOPA on the important initiative. Noting the strong emphasis of the government on phasing out single-use plastics in the Maldives, he outlined key policy objectives in safeguarding our pristine marine ecosystems from the threats posed by PET bottles and other plastic waste products. He noted that MOPA's nationwide programmes are a value-added towards achieving the ambitious time-bound targets of the Government, and pledged the Ministry's continued support to MOPA and partners in whatever way possible.
In his introductory and welcome remarks, MOPA's Founder and President, Former Environment Minister Thoriq Ibrahim said: "This project will provide actionable solutions to help our partners formulate an efficient and effective mechanism for recycling plastic waste generated in the capital. Our innovative approach is founded on bringing together, manufacturers, importers, retailers, distributors and end users of PET bottles, as well as regulators and policymakers passionate about the reduce, reuse and recycle principle. We also welcome academics and the youth to join in. This project is designed for further expansion, and needs lasting commitment by stakeholders. Ours is a common goal. We are blessed with one of the most breathtaking natural environments in the world, and it is our responsibility to maintain it in pristine condition."
MOPA's Plastic Reverse Logistics Project involves a strong partnership with Happy Market Private Limited (bottlers of 'Life' mineralized water), Male' Aerated Water Company Limited (bottlers of 'Coca-Cola' beverages) and Island Beverages Maldives (bottlers of 'Taza' mineralized water). The collected PET bottles are handed over to Parley Maldives for recycling. This national multi-stakeholder partnership project brings together numerous companies and retailers with a common vision to create a more sustainable business and a better shared future that makes a difference in people's lives, communities and our planet.
The project involved regulated daily post-consumer collection of PET bottles from over 120 retail outlets, including eateries, restaurants and cafés in the Greater Male' area. The collected waste is then sent through for recycling. MOPA plans on expanding the project to cover over 200 outlets, including those in Hulhumale' and Villimale'.
The Maldives Ocean Plastics Alliance (MOPA) was registered in the Maldives in early 2020 as a non-governmental, not-for-profit networking organization, focused on the growing domestic concern over plastic pollution. The core objectives of the Alliance include reducing, reusing and recycling plastics, raising awareness about their dangers to the country's fragile ecosystems including the vast and abundant oceans, and advocating for greater repurposing of single-use plastics within communities.