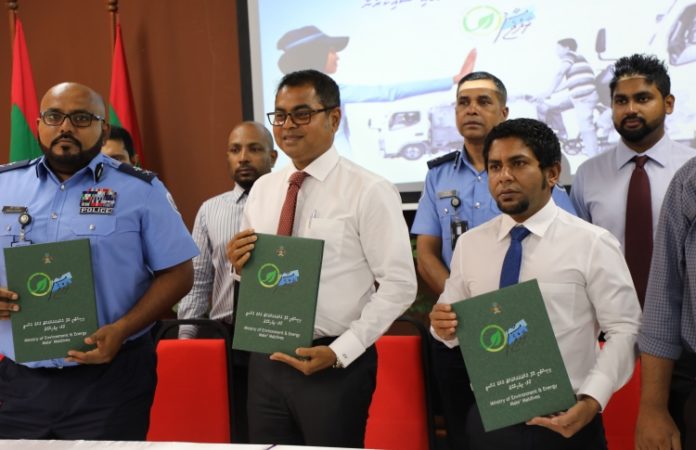 To address the issue of waste management, Maldives Police Service has introduced 'Environment Police' services and has signed an MoU with Ministry of Environment and Energy and WAMCO.
In a ceremony held at the Ministry, Acting Commissioner of Police, Abullah Nawaz signed the agreement on behalf of MPS. Minister of Environment and Energy, Thorig Ibrahim signed the agreement on behalf of the ministry, followed by Mohamed Shifau, Director of WAMCO signing on behalf of the waste management company.
The agreement stated that Environment Police were required to terminate illegal waste disposal, and disciplining responsible parties. In addition to this, police are required to provide their services to WAMCO zones and to manage and maintain the traffic flow at these zones. MPS will provide their assistance to resolve any security issues that may arise at waste management sites.
The parties also agreed to work together under 'Saafu Raajje' project and to take necessary steps to execute regulations on waste management .
According to the signed agreement between the three parties, MPS will be providing their full support to implement the regulations set forth by this agreement and to take action through EPA against those who abide the rules.