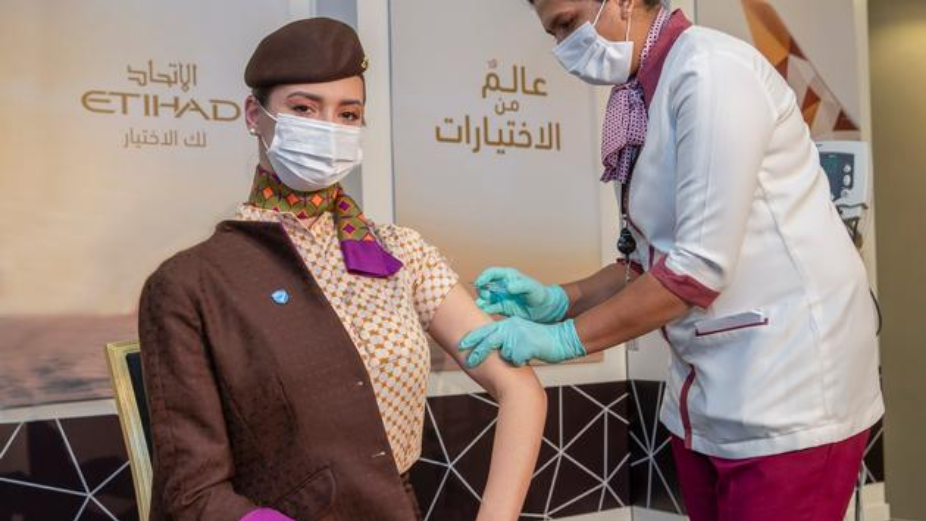 Etihad Airways, the national airline of the United Arab Emirates, has become the first airline in the world to vaccinate 100% of its onboard crewmembers.
The airline has vaccinated all of its onboard crew members through the airline's "Protected Together" initiative, which began January 2021. Seventy-five percent of all of its employees have received at least one dose of the vaccine.
The initiative encourages employees and their loved ones to get vaccinated, providing honest information and talks with doctors to help answer any questions they may have, as well as mobile vaccination clinics. Under this initiative, the Etihad Airways Medical Center became an accredited vaccination clinic.
The initiative was created after the UAE launched its Choose to Vaccinate campaign, with a goal to vaccinate half of the country's population by March 2021.
Tony Douglas, Group Chief Executive Officer, Etihad Aviation Group, said: "We proactively made the vaccine available to all our employees to not only help combat the effects of COVID-19 but to make travelers feel confident and reassured the next time they fly with us. We are the only airline in the world to make COVID-19 testing mandatory for every passenger and crew member before every flight and now, we're the first airline in the world with 100% vaccinated crew on board."
Etihad Airways has put itself on the forefront of health and safety measures since the beginning of the pandemic; in January, it was awarded Diamond status for cleanliness and sanitation in the "APEX Health Safety, powered by SimpliFlying " audit. It also began working with the International Air Transport Association (IATA) on testing out the IATA Travel Pass, a mobile app that logs COVID-19 test results and vaccination information.
For more information, please visit Etihad Airways.