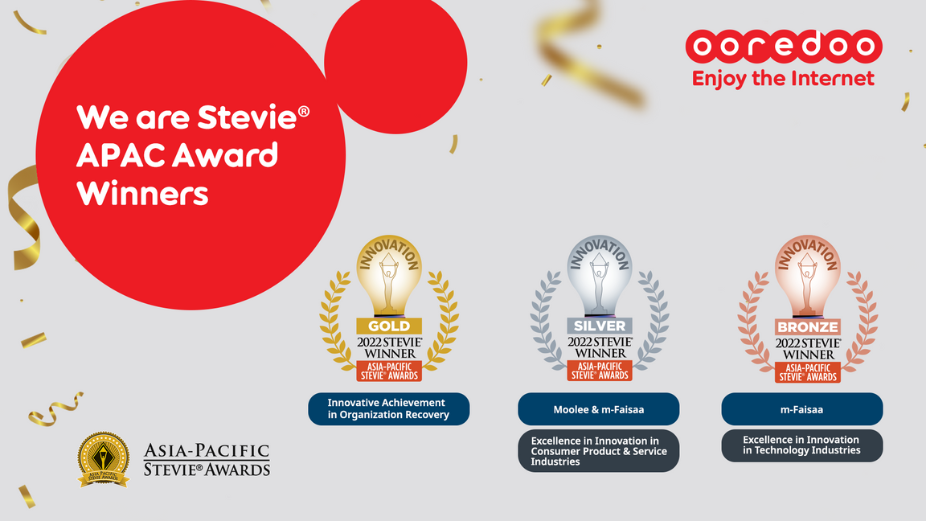 Ooredoo Maldives, the leading telecommunication company in the Maldives received a multitude of prestigious wins at the 2022 Asia-Pacific Stevie Awards including:
Gold Stevie – Innovative Achievement for its efforts during and post-pandemic era
Silver Stevie – Excellence in Innovation in Consumer Product & Service Industries for m-Faisaa & Moolee services of Ooredoo Maldives
Bronze Stevie – Excellence in Innovation in Technology Industries for m-Faisaa services of Ooredoo Maldives
"It is a great honor to receive international recognition for our initiatives that enabled opportunities for our customers and our communities through digital services and innovative solutions. Despite the challenges faced due to the pandemic, with much dedication and hard work our team were able to drive innovation and digital adoption by introducing first of its kind services, enriching the lives of the people of the Maldives. I would like to congratulate the entire team who has been tirelessly working with enthusiasm and passion to transform our services to digital means and improve our overall customer experience. I am confident that our team will continue to improve, innovate and provide new opportunities, advanced digital services to our customers and the people of the Maldives." Managing Director & CEO of Ooredoo Maldives, Khalid Al-Hamadi
Despite the challenges faced due to the pandemic, Ooredoo Maldives invested in strengthening its network and telecom infrastructure across the nation to cater the evolving needs of its customers. In addition to establishing a Tier 3 ready Data Centre, work has also commenced on deploying a submarine cable connecting The Maldives, Singapore and Europe to further strengthen its network infrastructure. Ooredoo Maldives revamped its Mobile and Fixed broadband services enabling quality services even more affordable. Introduction of innovative products such as Aachaa Prepaid & Postpaid portfolio, expansion of fixed broadband footprint across the nation and enabling access to services through digital platforms greatly increased customer satisfaction and business growth.