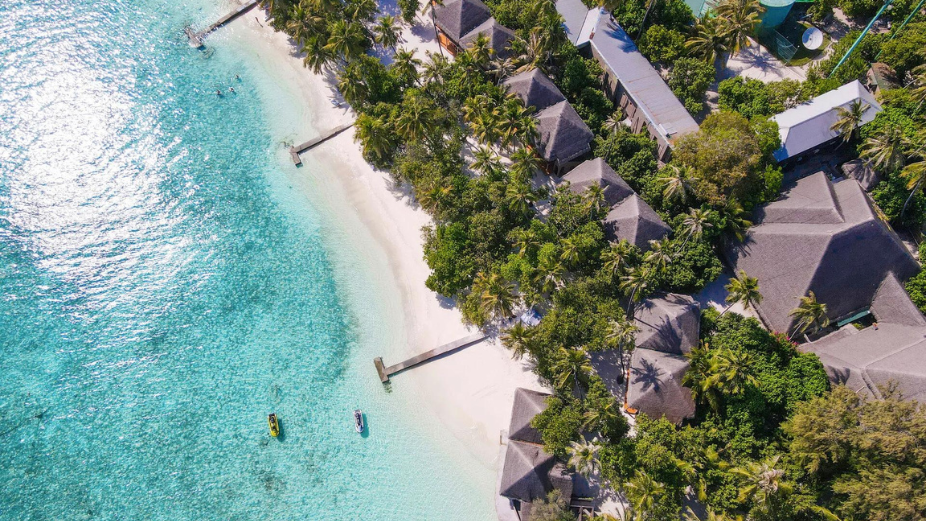 Experience the ultimate Eid getaway at Adaaran's exquisite resorts in the Maldives. With stunning natural beauty, luxurious accommodations, and impeccable service, Adaaran ensures an unforgettable holiday. Whether you choose Adaaran Club Rannalhi, Adaaran Select Hudhuranfushi, or the adults-only Adaaran Prestige Vadoo, each resort offers a unique celebration tailored to make your Eid truly special!
Traditional Eid Get-away at Adaaran Club Rannalhi
Experience a traditional Eid getaway like no other at Adaaran Club Rannalhi. All guests at Adaaran Club Rannalhi are treated to the Rannalhi All Inclusive offerings, which include delectable meals and unlimited beverages, ensuring a truly indulgent experience. The resort's Eid celebrations commence on the 25th of June with a friendly volleyball tournament between staff and guests, creating a vibrant and lively atmosphere on the main beach. The following day, guests can enjoy a variety of games, including tug of war, before ending the day with a mesmerizing sunset DJ session. As the eve of Eid approaches, guests can partake in exciting activities such as Zumba dance and mocktail-making classes.
On the first day of Eid, the festivities kick off with the cutting of the Eid Cake, followed by a range of enjoyable games, including a sack race, musical chairs, and evening entertainment featuring the captivating traditional Maali Parade. The second day of Eid offers even more excitement, with cooking demonstrations for kids, fun games, and face painting. Adaaran Club Rannalhi ensures that your Eid celebration is filled with joy, entertainment, and unforgettable experiences for the whole family to cherish.
Family Eid-Extravaganza at Adaaran Select Hudhuranfushi
Guests visiting Adaaran Select Hudhuranfushi will be treated to the Premium All-Inclusive offering during their Eid stay, providing them with a luxurious and all-encompassing experience. In addition to the exceptional amenities, the resort has curated a series of exclusive events tailored specifically for Eid celebrations. The festivities commence on the day of Hajj with a captivating cookery demonstration and a lively family pool party. The day concludes with an exhilarating Red DJ Night, setting the stage for an unforgettable Eid experience.
On the first day of Eid, guests can immerse themselves in the rich traditions with a vibrant Maali parade followed by a lineup of traditional games, including sack race, tug of war, beach volley, and the thrilling three-legged race held at the main beach. The excitement continues on the second day of Eid with a lively Fun Party and an energetic DJ performance, ensuring non-stop entertainment for all. Finally, on the third day of Eid, guests can savour the enchanting atmosphere of a traditional Bodumas Beynun show in the evening, providing the perfect finale to their remarkable Eid getaway at Adaaran Select Hudhuranfushi.
Couple's Eid-Cation and Adaaran Prestige Vadoo
The exclusive Adaaran Prestige Vadoo caters to adult guests seeking a premium, all-inclusive experience complete with delectable meals and unlimited beverages. This Eid, the resort has curated a delightful itinerary filled with exciting activities from the 23rd to the 30th of June. The festivities kick off on Friday, the 23rd, with engaging Dart and Beach volley sessions, creating a spirited atmosphere. Guests can then participate in Mocktail making classes on the 24th, adding a touch of creativity to their stay. Water aerobics and a variety of fun games are planned for each day until the 27th, providing ample opportunities for guests to interact, learn, and have a great time.
As part of the activities, guests can even join the resort's chef to learn the secrets of crafting the exquisite dishes served daily. Zumba classes, musical chairs, Beach volley, and other enjoyable games will continue throughout the remainder of Eid, ensuring that guests on their romantic getaway are entertained and immersed in a truly memorable experience at Adaaran Prestige Vadoo.