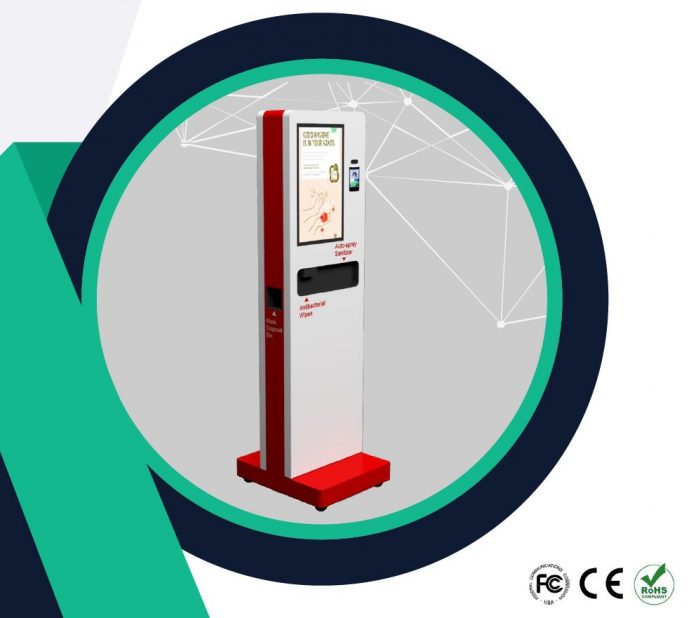 Expedite Maldives Pvt Ltd has introduced high quality 5 in 1 sanitizing digital kiosk (U32-C Model) for office, airports, and industrial and urban areas in Maldives.
A hybrid digital kiosk can be a new essential in the business environment under the 'new normal' changes. A hybrid digital kiosk has a body temperature sensor with a face recognition system, digital signage for interactive content, auto-spray hand sanitizer with a built-in infrared sensor, disposal bin to dispose used masks, and tissues, and anti-bacterial wipes.
The digital touchscreen in the kiosk is smart enough to cater for various business needs, as long as there's internet access. It has a 393.3 mm wide and 698.7mm long, smart touchscreen.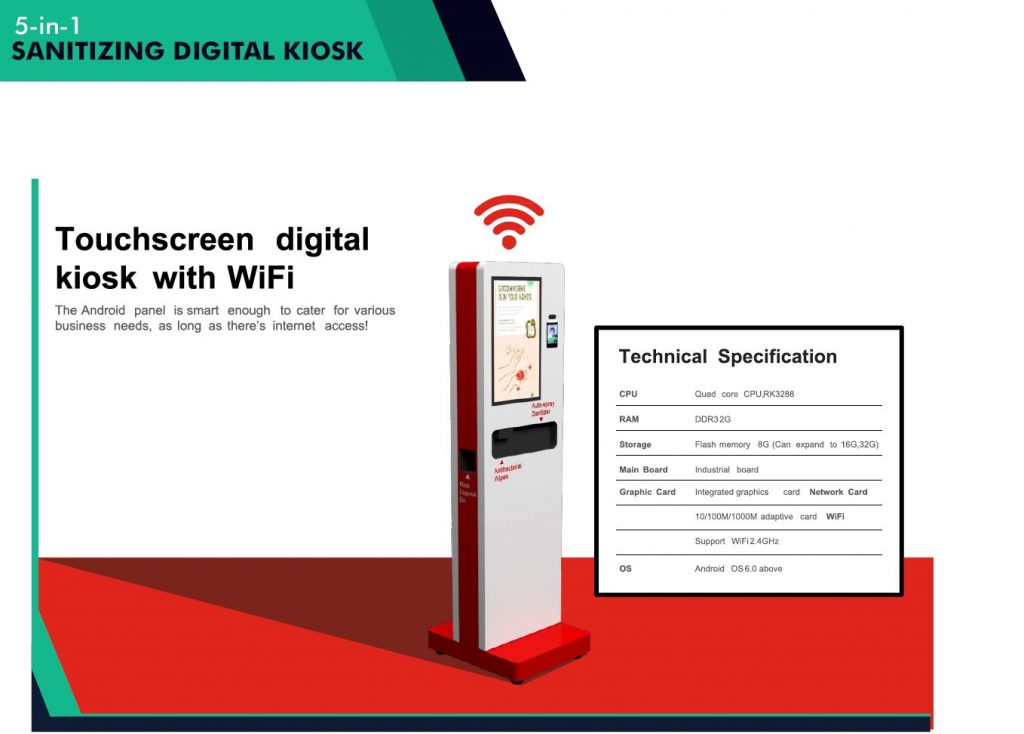 U32-C has a built-in body temperature sensor that can recognize people in masks and can check temperature within 1m distance. It tests temperature within a range of 10 degrees Celsius to 43 degrees Celsius.
The smart body temperature is very easy to use, just place your face within the silhouette indicator. If the temperature is normal, the screen will indicate temperature with green color and if body temperature is high, the temperature is red color.
Also, to use U32-C's automated hand sanitizer spray, just place your hand near the built-in infrared sensor, the dispenser will auto-spray the sanitizer. Operators just need to fill the auto-spray sanitizer with disinfecting hand sanitizer.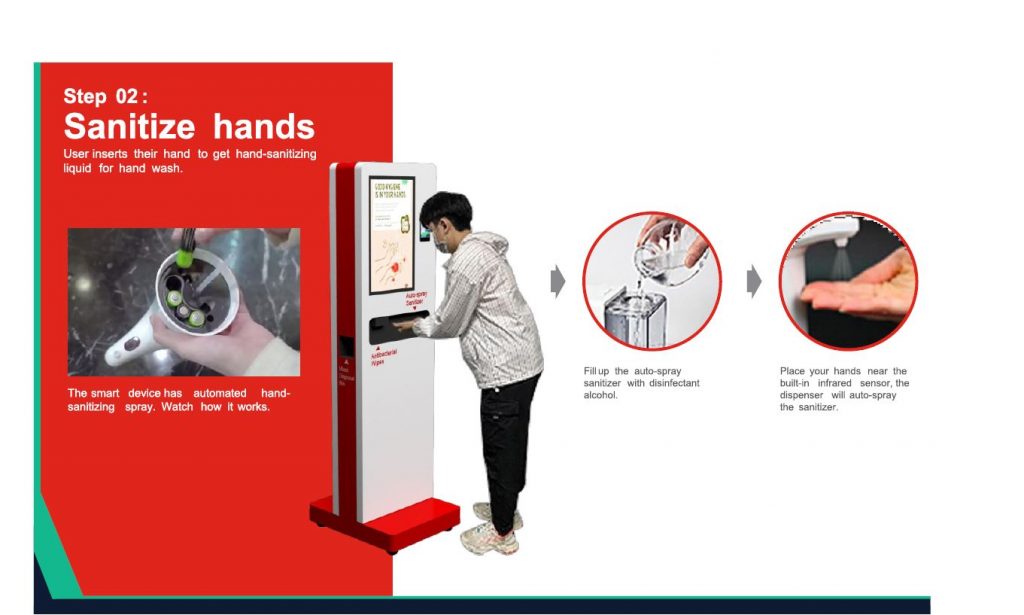 U32-C has multi-functional signage, supported by a central content management system and auto-reboot function. It can check weather forecasts, conduct quick surveys and interactive activities, can collect database and act as building directories for the business, and can function as an info kiosk.
The chemical used in this smart digital kiosk is German certified and EU standard for human usage. It has also been regulated by the Federal Communications Commission (FCC). FCC is an independent agency of the United States government that regulates communications by radio, television, wire, satellite, and cable across the US.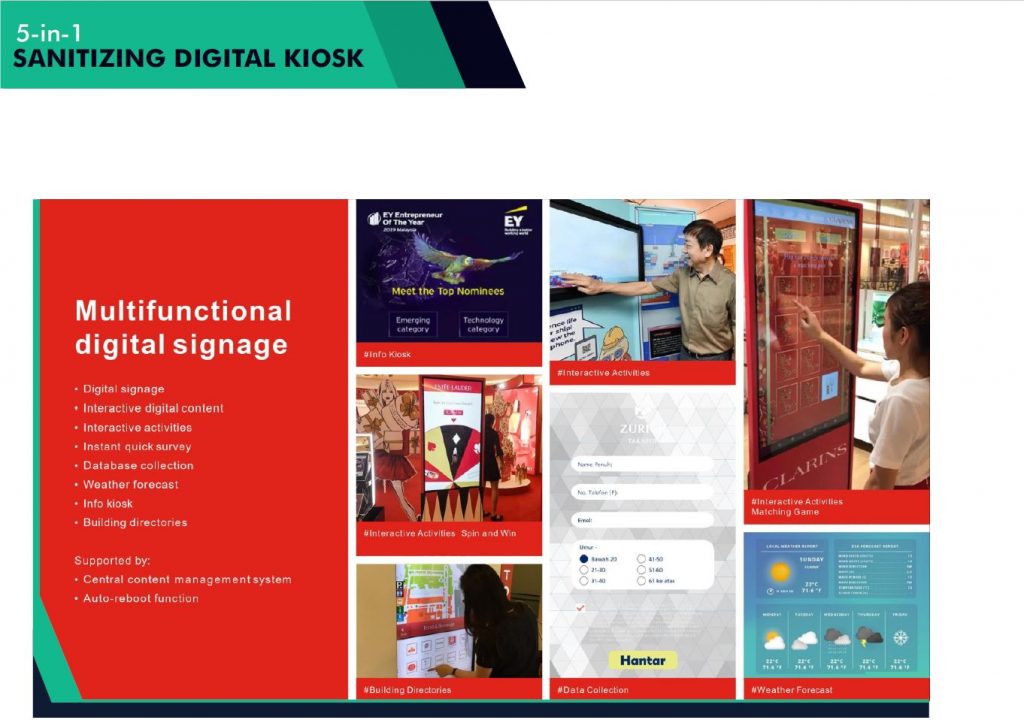 Expedite Maldives is the authorized distributor and they will be providing technical support and after-sales service with warranty.
With the sheer will of flattening the curve, the government is easing lockdown measures leading to resorts and businesses re-open. It is very important to create a safe space for employees and customers by having a hand sanitizer digital signage kiosk installed in strategic corners of your store or working environment during this time.
The smart sanitizing kiosk will help businesses to create safe handwashing stations while also tracking the temperature of those entering the building.
For more information, Expedite Maldives Pvt Ltd instructs to contact them via info@expeditemaldives.com or 7229595.