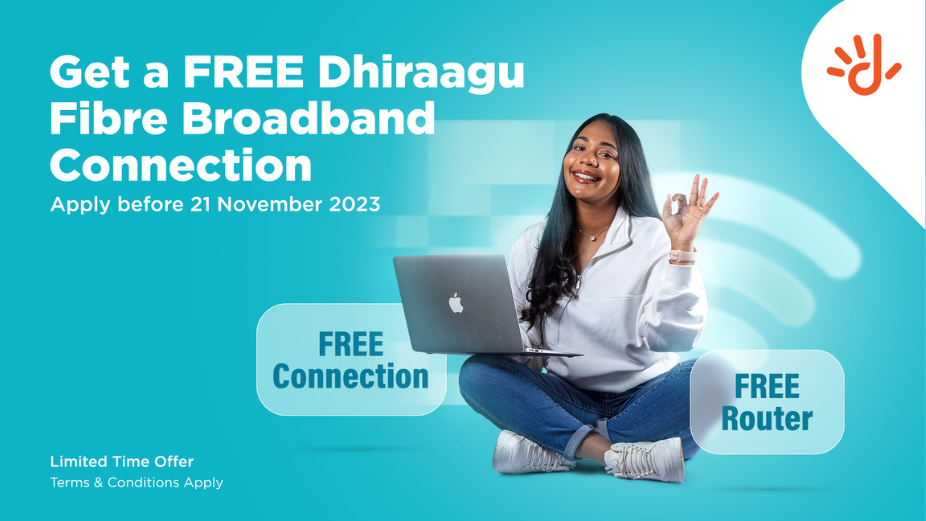 Dhiraagu has launched a special limited-time offer with a free connection and free router for residential customers applying for a new Dhiraagu Fibre Broadband connection.
Residential customers who apply for any Fibre Broadband package before 21 November 2023 will be eligible for this special promotion.
This is the perfect opportunity for new customers to join the fastest fibre network in the country without incurring any set-up costs. New customers joining the Dhiraagu Fibre Broadband network will now be eligible to participate in the company's exciting new 'Win a Tesla' promotion. With this promotion, customers on Fibre 30M or above packages will stand the chance to win a famous, electric-powered Tesla car. For more information about this promotion, visit https://bit.ly/45R88YM.
High-speed Dhiraagu Fibre Broadband service is now available to 91% of national households with a diverse portfolio of internet packages at different speeds and allowances to suit customers' needs.
Dhiraagu continues enriching people's lives in the Maldives by providing exciting new offers at greater value.
For more information about this limited-time offer, visit https://bit.ly/42dAzP8